Diversity, inclusion stressed in student government's fall plans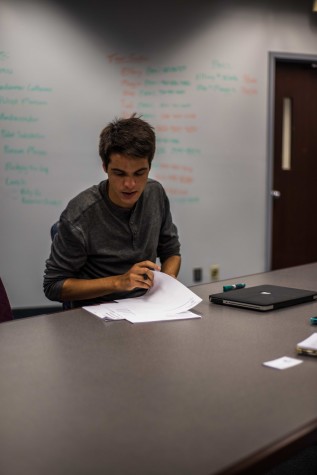 Room 133 in the Alumni Memorial Union is not only space for Marquette Student Government offices – a new whiteboard wall, ball pit and suggestion box resemble a think tank.
It's a new year for MUSG and its President Zack Wallace, a senior in the College of Arts & Sciences, said diversity and inclusion are the group's top priorities this fall.
"We're at a really positive point of collaboration," he said about the efforts. There were several campus protests last semester related to diversity on campus.
MUSG is organizing events with ChangeMakers@MU, a social innovation chapter, Marquette cultural groups and non-profit organizations. The goal is having more student engagement off-campus.
The first series of MUSG-sponsored events starts next week with #MUMania from Sept. 2-7.
Also on the agenda is heightening consistent online grade book updates from faculty. However, Wallace said he isn't sure if they can be required to do so.
"What I'm hoping to do is work with faculty to tell them this is a priority for students, particularly our incoming freshman class," he said.
Until or if a mandate is passed, Wallace said students should push professors to post grades online by asking them to.
Some loose ends from last semester are still on the organization's agenda. That includes legislation that was passed in spring to emphasize "socially responsible investment," a term that MUSG is using instead of "divestment" when it comes to dissolving Marquette relationships with unethical companies.
It was announced in July that the first event of MUSG's annual Speaker Series would not be a speaker who is a non-student or non-Marquette affiliated, like it has been in the past. Instead, it will be a TEDx-inspired event called MarquetteX, where students give speeches on whatever they'd like.
Max Bertellotti, president of ChangeMakers@MU and senior in the College of Arts & Sciences, brought the idea to Wallace last semester with the intention to promote student innovation, showcase passions and encourage action. 26 students applied and 10 were selected to speak at the event on Sept. 17.
"I think (MarquetteX) really challenges the definition of diversity," said Lauren Rimmel, executive board member of ChangeMakers@MU and senior in the College of Arts & Sciences. "I think it definitely promotes the spirit of diversity."
Another opportunity for voicing student opinion is a listening session with the Office of the Provost on Sept. 10. Wallace said students will provide feedback on changes to the Gender and Sexuality Resource Center that Provost Daniel Myers announced last week.
The changes include splitting the center into different departments: a LGBT resource center and Center for Gender and Sexualities Studies for research and teaching.
This semester's agenda also pushes student involvement with the Milwaukee community. Wallace said he is particularly enthusiastic about engaging with Near West Side Partners Inc. to "identify ways that students will get to be more interactive with that group and see this area of Milwaukee thrive."
NWSP is a new nonprofit organization founded to create opportunities for getting involved with the neighborhoods surrounding Marquette. The organization will be hosting a large debut on campus in September.
Emily Gorz, MUSG communications vice president and junior in the College of Communication, said students should use MUSG as a resource for change.
"We're here to partner with students," she said. "We're here to serve them. We're here to work alongside their interest."
She said the door to AMU 133 is open for all students – for studying, hanging out in the ball pit or getting involved.