MUSG looks to continue 2015 initiatives during the new year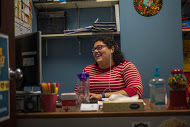 Marquette Student Government will work to improve recreational facilities and provide clubs with the resources they need for spring 2016 while continuing to work on fall 2015 initiatives like bringing fresh fruit to deliver to students, and helping club, dance, and recreational teams.
Clubs and performing groups all share a common need – space to practice. MUSG hopes it can utilize and improve space it already has in addition to the university's plan to build a new recreational facility.
MUSG President Zack Wallace said he hopes a new recreation center is in the near feature for the university. MUSG also plans to improve the health and counseling centers.
"We are looking to make sure this proposal does not sit on the shelf," Wallace said. "It's a huge amount of money, and we need to figure how we can best fund it."
MUSG looked at peer institutions for inspiration. The University of Wisconsin-Madison includes a gym membership fee in its tuition, whereas Marquette does not. MUSG and the university will work together to find funding for a new facility.
"We are working with athletics to see how we can best utilize and maximize space on campus, not just the (Helfaer) Rec Center," Wallace said.
MUSG explored the option to purchase turf for Norris Park, where intramural and club teams practice and play games. However, the cost makes this a long-term project.
MUSG worked on short-term solutions to give clubs and performance groups adequate practice space. It will work with the athletic department to see how it can employ the courts in the Helfaer Rec Center to ensure teams get enough practice time.
MUSG talked with dance groups such as Pure Dance and Mazaa Bollywood Dance about their practice facilities and how their current practice spaces can improve.
"There is a lot of things we can do right now," Wallace said. "But we cannot lose the end goal that we need that new wellness and rec facility."
In addition to improving recreational facilities, MUSG will continue to work on initiatives from fall 2015 like continuing to work with Growing Power, a local producer of fresh fruit that students can order. Growing Power will deliver fresh fruit baskets to the MUSG office for students to purchase. MUSG hopes the baskets will be available for purchase by February.
"We focused on getting more opportunities for students and administrators to interact," said Emily Gorz, a senior in the College of Communication and MUSG vice president of communication.
MUSG plans to do this by continuing to host Dialogue Dinners, an event that brings students, faculty and staff together once a month for dinner and a discussion on a variety of topics. The first dialogue dinner of the semester will be Feb. 3.
There are other initiatives in the works for MUSG in the spring semester.
Early design stages for a website called Marquette Rent Review are in the works at MUSG. This will give students the opportunity to provide reviews on campus apartments and landlords.
Leave a Comment