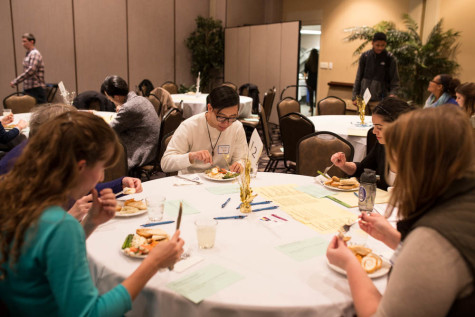 Students were encouraged to have engaged and substantial conversations at the first Marquette Student Government Dialogue Dinner Nov. 11.
The event, called "WHO is Marquette?," allowed students to talk with faculty about their experiences on campus and how they wish to strengthen the Marquette community. More than 100 people attended.
University President Michael Lovell began the dinner by thanking MUSG and welcoming the attendees. He said it was great to get to know community members while celebrating Marquette's diversity.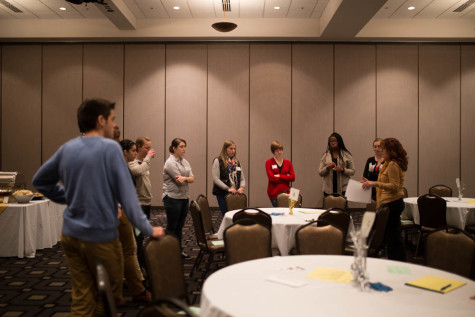 Attendees were assigned to 14 round tables, each with at least one administrator and moderator who guided the table through procedures and questions.
Participants were given three minutes to answer questions posed by the moderator, ranging on topics from creating an inclusive campus, changing Marquette through conversation, creating safe spaces for students and creating an environment that ensures justice.
When one person answered a question, the rest of the table was instructed to refrain from interrupting, asking questions or conversing. This structure was meant to encourage active listening.
Following the dialogue, participants were allowed to converse and ask questions on the discussed topics. They were encouraged to submit anonymous reflections to MUSG after the event.
Catherine Meccia, a senior in the College of Arts & Sciences, said she attended the dinner to meet leaders of other student organizations. Meccia is the event coordinator for Dance Inc. and president of Yoga Club.
Nick Galfano, a senior in the College of Business Administration, said he learned how to listen to understand, not respond.
"I didn't know what to expect when I signed up for this event," said Nick Galfano, a senior in the College of Business Administration. "But it was a great learning experience. There were some interesting questions discussed that got me out of my comfort zone."
MUSG representatives were pleased with the outcomes of the event, which they began planning over the summer. Zack Wallace, MUSG president, and Aliya Manjee, MUSG vice president, proposed the event to the University Leadership Council three weeks ago.
"We wanted to make sure faculty and staff showed up," Manjee said. "I'm really pleased with how it turned out."
Marya Leatherwood, vice president for strategic planning, said she thought the framework of the dialogue was excellent.
"It follows the principles of restorative justice – promoting deep, active listening when people are speaking," Leatherwood said. "The questions were excellent and made me want to engage in more dialogue."
This is the first of four Dialogue Dinners scheduled for this school year. The next dinner will be on Dec. 2. Another dinner will be in conjunction with Mission Week next semester.