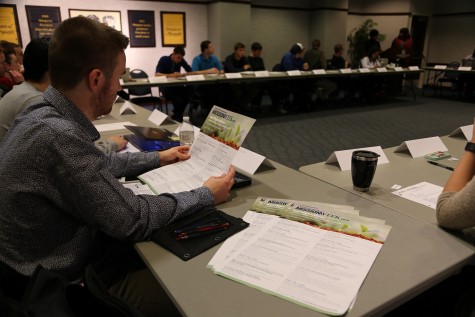 Mission Week 2016, mental health and the next senior commencement speaker were discussed during Marquette Student Government's first meeting of the semester on Jan. 26.
MUSG Advisor Jennifer Reid said the Counseling Center is promoting a national, non-Marquette related crisis text line that provides 24/7 access to counselors. MUSG will also promote the line to students.
The possibility of creating a Jewish studies minor was discussed, in addition to ways MUSG will support its November vote to make Marquette a tobacco-free campus.
Jacqueline Schram, Marquette's Governmental and Community Affairs Associate, and Kathy Coffey-Guenther, Campus Mission and Ministry's associate vice president, spoke to MUSG about 2016 Mission Week events, which will run from Jan. 31 to Feb. 5.
The theme for this year's Mission Week is Earth Justice: Committing to Our Sacred World. Many of the events incorporate sacred tribal rituals. Michael Belica, MUSG senator and sophomore in the College of Arts & Sciences, said he's looking forward to the annual celebration of faith.
"I think the theme will allow us to look at the environment and how it ties into things in a new way that we haven't fully considered before," he said.
MUSG will sponsor three of the week's events: the Ukulele Group's performance in the Alumni Memorial Union, a performance by folk song writer Peter Mayer and the MUSG Dialogue Dinner on Feb 3.
It was also announced that nominations for a senior commencement speaker will be accepted. Any student or faculty member can nominate a senior for the position. The student will be selected by a committee and the senior class.
The Senior Speaking Committee will consist of one person from every class and three faculty members. It will narrow the submissions down to 10 nominees before the senior class votes for the top three. The winner will be chosen by the committee and approved by University President Michael Lovell.
"Every student has a voice and people can nominate anyone they think will be a good candidate," said Aliya Manjee, MUSG vice president and junior in the College of Arts & Sciences.
Story continues below advertisement