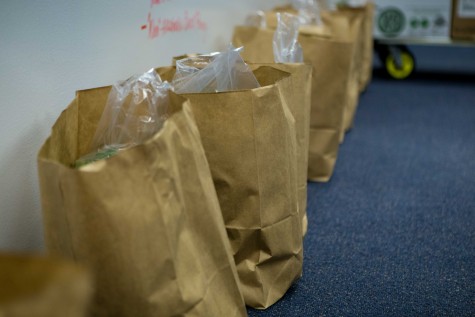 Students visited an oasis within Milwaukee, part of which is considered a "food desert" by the United States Department of Agriculture, to pick up fresh fruit and vegetable baskets on Friday from Growing Power, a local nonprofit and urban farm.
MUSG passed legislation in December to purchase the baskets using a $1,100 reserve fund. Each $9 basket has pears, oranges, apples, cantaloupe, broccoli, romaine lettuce, potatoes, cilantro, green onions and eggplant.
All items are sustainably sourced and some, such as the romaine lettuce and cilantro, are produced at Growing Power's Milwaukee location on 55th St. and Silver Spring Dr.
"I think local food production and sustainable urban agriculture are really important," said Lauren Brown, a junior in the College of Communication. "$9 for a basket of locally grown food is a great deal."
Brown, who visited Growing Power and bought its produce in the past, did not buy a basket today but it is planning to buy one next time they're available.
"We want to provide good, local and affordable food to all diverse communities," said Mo Lohre, market basket coordinator at Growing Power. "Eating a diet full of fruits and veggies will improve your performance as a student."
As a Marquette graduate, Lohre once experienced the lack of fresh food on campus and said she wished the market basket program was available to her.
"This is a good solution for now but we still need to find a longterm solution," said Riley Wogernese, a senior in the College of Business Administration, about Marquette's fresh food offerings. "This will help until then."
Wogernese purchased one of the 20 baskets that were available.
According to Lohre, the partnership is not Marquette's first with Growing Power. She said students, professors and small business owners on campus have purchased market baskets directly from the farm for many years. Students also volunteer at Growing Power for to fulfill service learning requirements.
Retired NBA player Will Allen started Growing Power in 1993 to produce fresh, sustainable food for the Milwaukee community and to employ inner city teens. The nonprofit expanded from its original Milwaukee location to other parts of Wisconsin and Chicago.
MUSG will sell baskets again Feb. 19, March 4, April 1, April 15 and April 29.