Around 100 people participated in a privilege walk on Oct. 6 in Central Mall to visualize privilege differences among them.
The Never Have I Ever: Privilege Walk was sponsored by Marquette Student Government, Black Student Council, Marquette Empowerment, the Marquette chapter of Active Minds and Peacemakers. It included the privilege walk, small group reflections and the launch of the Never Have I Ever photo campaign.
Walk and photo campaign
The walk began with participants holding hands and standing in a line on the Central Mall sidewalk. Provost Daniel Myers read statements about privilege and asked everyone to step forward or backward if they experienced the statement or stay in place if they hadn't.
Some of the statements were: step forward if you went to high school, step forward if both of your parents are literate, step back if you've been sexually assaulted and step back if you've had your American citizenship questioned.
The statements covered a variety of topics including race, gender, religion, sexual orientation, mental wellness and education/job opportunities.
The participants quietly went through the walk and were spread across the mall when it was over. The majority of the group took more steps forward than backward, while some ended up back behind the starting line. Myers asked them to look around when it was over.
"Think about what it would take to even out this privilege," Myers said. "It takes a lot more than fairness to correct this."
Post-walk reflection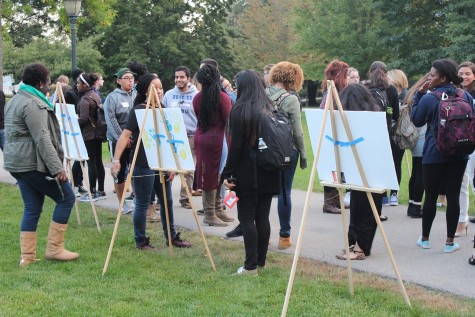 Participants broke into small groups for reflection after the walk.
Krystal Clayton, a senior in the College of Communication and the social chair of Black Student Council, said she liked how the walk was a silent and reflective activity.
"You really just got to reflect by yourself and to think about the privileges that you have and the privileges you don't." she said.
Clayton said she was near the back of the group by the end of the walk but wasn't surprised about her position.
"I came in knowing about the privileges I do have," Clayton said. "I still feel blessed regardless because I was able to step forward on a lot of things."
Janelli Barrow, a fifth-year senior in the College of Nursing, also ended up near the back of the group.
"I knew I was aware of my privilege, where I would stand in the line," Barrow said. "I'm aware of what I have and what I don't have and what other people have that are more privileged than me. I just make the best of everything I have and that's how I make it in life."​
John Devine, a senior in the College of Arts & Sciences, said the walk was informative and eye-opening.
"I think visually having that kind of distance is a great way to show stigma, or to show privilege in a sense and what each individual student goes through," Devine said.
The Never Have I Ever photo campaign included 12 photos of Marquette students and each had a privilege statement from the student in the image. One of the photos, of College of Communication sophomore Josh Miles, said "never have I ever been shunned for having a disability."
How the event came to Marquette
Aliya Manjee, MUSG vice president and junior in the College of Arts & Sciences, said the event's inspiration came from the Never Have I Ever social media photo campaign created by Boston College's Undergraduate Government. Manjee and other students attended a National Jesuit Student Leadership Conference and met Boston College students, who they contacted after learning about their campaign.
"I really wanted to bring this back to campus," Manjee said. "I was like, if I get one thing from this conference, this is what I have to do."
Manjee said she began reaching out to student groups after the conference. The idea of the privilege walk came up during a meeting with the groups.
"We wanted it to be a physical thing," she said. "On our campus, people are afraid to talk about privilege and we wanted to have that dialogue open and have it in a safe space."
Emily Gorz, a junior in the College of Communication and MUSG communications vice president, said MUSG got permission from Boston College and communicated with their Undergraduate Government about the photo project. She said MUSG made the format more unique to Marquette.
"Moving forward, we're going to have opportunities for students to come into the (MUSG) office and put their own spin on it and engage in the conversation in their own way," Gorz said. "I'm really looking forward to that, to see the other ways that students are going to get involved in it."
Students can have their Never Have I Ever photo taken in the MUSG office in the Alumni Memorial Union during times that have yet to be determined. Gorz said there will be a separate Facebook page with photos from the campaign.