Foxconn Technology Group held a networking event in the Alumni Memorial Union Oct. 9.
The company invited students to speak to Foxconn employees about possible jobs, co-ops and internships. They also demoed high-resolution television display panels that will be manufactured at the new plant in Wisconsin.
There were two goals for the networking event: To market Foxconn as a great company, and to show students the opportunities to work there, said Jonathan Sharp, a human resources manager for Foxconn in Indianapolis.
"You don't hear a lot about Foxconn itself, because we are an assembler manufacturer for other companies. HP, Dell, Apple — names that you recognize, but Foxconn assembles all of it," Sharp said. "On top of that, it's a growing company … Whether it's desktops, laptops, televisions, iPads, iPhones, you name it, it's really unique."
He said that Foxconn is looking to hire up to 13,000 employees by 2020. There is no set number of Marquette students that they are looking for, but they will take as many as they can get.
Carmel Ruffolo, associate vice president for research and innovation, said the networking event was a success. Hundreds of students were able to filter in throughout the day and speak to Foxconn representatives. She said lots of students were surprised by the technology, like the thinness of the screens that were on display.
"It's very impressive technology. I'm so proud of our Marquette community, and so I'm happy we were able to bring this to the university," Ruffolo said.
Ruffolo said in the last few months since the partnership was announced, Marquette has been able to talk to the company about their recruitment needs from Marquette and southeastern Wisconsin.
Students from other universities besides Marquette were in attendance. While Ruffolo said she was not certain which universities actually showed, invites were sent out to all regional universities.
Provost Daniel Myers said Foxconn is interested in getting Marquette students internship experiences over in Asia to learn in plants, so they can be prepared to work in Wisconsin.
"We see a match made in heaven between the two of us. It's a great opportunity for them and for us," Myers said. "We can really help them get established here, and they can really help us by providing another market for our students and so forth, and opportunities to do research for the faculty."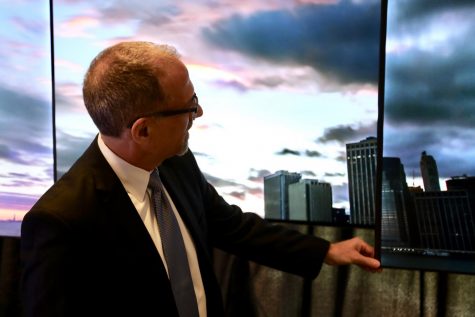 Chris Procak, a senior in the College of Engineering, is in the process of looking for a full-time job for after graduation. He came to the Foxconn networking event to see the career paths the company has available.
Procak said Foxconn was appealing because of the size of the company and the positions available. "(Foxconn is) trying to expand their market to Wisconsin and also the United States, so they're going to be growing considerably."
Procak said he is fine with living in Milwaukee for the first few years after graduation, but he said he wants to eventually move out of the Midwest. His ideal field is software development, and he said he thinks Foxconn would be a good way to launch his career, if hired. Foxconn offers software positions that Procak is interested in.
"They also have cool engineering projects that I could be working on," Procak said.
Foxconn is coming back to Marquette Oct. 23 to interview students.