Ott Memorial Writing Center: Annual Fight Club
When one thinks of a bracket, March Madness, or other sports competitions, are often the first things that comes to mind. At the Ott Memorial Writing Center, brackets are used in the annual Writer's Fight Club to help declare a student tournament winner.
The Ott Memorial Writing Center will be hosting this year's 9th Annual Writer's Fight Club on Thursday, Dec. 1, at 7 p.m. in the Lunda Room of the Alumni Memorial Union. The event, lasting about two hours, is an opportunity for students to come with a few quotes from their favorite writer.
The Ott Memorial Writing Center creates March Madness inspired brackets with each excerpt. Students will deliver their fragments aloud in rounds, and the audience will vote on who advances.
Matthew Burchanoski, graduate assistant of English in the College of Arts & Sciences, organized the event and is actively looking for more student participants. 
"The event essentially is a way for us to highlight writers that students feel particularly passionate about, or just share some good writing to one's peers," Burchanoski said. 
A participant of the event himself in past years, Burchanoski has noticed a few ongoing trends among popular writers chosen.  
"Tolkien is a student favorite for sure, as is Kurt Vonnegut and James Joyce," Burchanoski said.
In the past years, Burchanoski said more traditional writers often take the trophy home, but last year, Taylor Swift surprisingly took home the trophy. 
Reigning champion, Brandon Harris, a second year in the Higher Education Master's Program, is excited to defend his position. Harris has participated in the fight club since he was an undergrad in 2017. 
"It is interesting to me that I won using the 'joke' writer that isn't the classic idea of what people assume a writer to be. I've brought Taylor Swift, a musician, three times before this year, Adele, and Kanye West — specifically a reading of his tweets, that placed highly," Harris said. 
Harris aims to highlight a different genre of writers, showing there can be influential writers in other multimodal areas. Harris will be performing three songs, "The Great War," "Call It What You Want," and "Right Where You Left Me," all songs of Swift.
"The latter is my favorite song of hers, and I want to highlight the vivid descriptions she can create in a song. The lyrics 'glass shattered on the white cloth. Everybody moved on. I stayed there; dust collected on my pinned-up hair. They expected me to find somewhere—some perspective, but I say and stared. Right where you left me,' sell me on the song by bringing me into her emotions and scene," Harris said.
Harris continues to compete each year because he believes in sharing not only words, but meaningful ideas.
"Literature tracks history. Not a factual history, but rather a documentation of pop culture and today's current events," Harris said. "Words are important, as they are a form of communication that can take on many expressions based on the specific choices made when selecting words. Words have power, and the context that words are used creates meaning more effectively than on their own."
Burchanoski looks at this event as a way to highlight as many different genres of writing as possible, and help participants learn about what resonates with their peers.
"This is a passion project. It really is just sort of an exuberance of the idea there's a lot of good out there to share. And let's make the sharing a fun and communal game. It doesn't have to be difficult to gain inspiration from others. Listening is key," Burchanoski said.
Burchanoski said the name of the event has no correlation with the movie, contrary to what some people may think when first hearing the title of the event.
"Fight Club just sounded snappy. It alludes to the battle and competition amongst the writers, in a playful way, which is the energy we hope is brought to the table," Burchanoski said.
Those interested in participating in the event can sign up here. Those not interested in participating are still encouraged to attend.
This story was written by Angelina Galullo. She can be reached at [email protected]. 
Leave a Comment
About the Contributor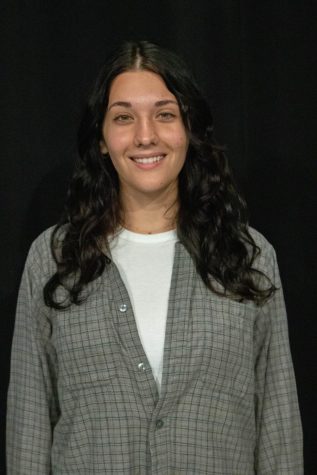 Angelina Galullo, Arts & Entertainment Reporter
Angelina is an Arts & Entertainment Reporter at the Wire. She is a junior from Chicago, IL studying journalism and minoring in digital media.

In...