Pursuing creativity, comedy and music with Nick Thune
"It was a lot like going to the bathroom," said comedian Nick Thune, 34, about having his first hour-long Netflix special released earlier this year. "You feel relieved."
Thune moved from his native Seattle to Los Angeles to pursue a comedy career ten years ago. Since then, he released a half-hour Comedy Central special in 2008, his first album, "Thick Noon," in 2010 and the aforementioned Netflix special. He appeared on "The Tonight Show" 10 times, "Conan" twice and "Late Night" once, in addition to guest appearances in films like "Knocked Up" and "Extract."
Thune, who incorporates playing guitar into his act, started his "In the Heartland" tour through the midwest this week, and will stop at Milwaukee's Underground Collaborative Wednesday.
"If I were to sell my show, I would say, 'Do you want to just relax for an hour?'" Thune joked. "I have pillows and blankets in there. I let people do naps and have a very comfortable situation for everyone."
He talked to the Wire about his tour, his act, music and the never-ending pursuit of creativity.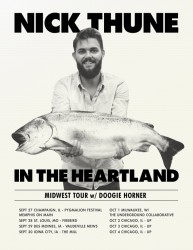 Marquette Wire: How and why did you first start to integrate music into your comedy?
Nick Thune: I wanted to be like a really prolific lead singer of a band, but unfortunately, I couldn't be that, so I guess I decided to be a prolific comedian instead. I really couldn't sing that well, so I guess I just decided to talk over the guitar.
MW: What does music do for your material creatively?
NT: I like all different styles of comedy, and I think choosing to put music over it is adding a tone.  If you were to watch a movie with no music in the background, it would be a whole different experience than if you were watching with music in the background. Obviously, stand-up comedy isn't a movie. I just think that (music) adds another element, that sometimes it can add an exclamation point on things, sometimes it can really downplay things. It's just nice to add different colors.
MW: Did you ever worry about whether or not audiences would be receptive to this style of comedy?
NT: I've never really been concerned about that. I just started doing something, and it semed to work the whole time. I've never really over thought too much. I think if I were to over-think it, it would be a lot less genuine. I think it's easy to force music into something it doesn't need to be forced into. If it doesn't work without the guitar, then it doesn't seem worthwhile.
MW: So how has that style developed over time? Is this tour much different than your past tours/specials?
NT: I'm doing rock clubs rather than comedy clubs. I'm even doing a bookstore. It's a totally different tour than I've done before. Most of it is new material. I think it's a different style. I think I'm evolving with age and, ya know, I want to be interested in what I'm doing, and I think it's hard to stay interested in what you're doing if it's the same thing.
I've played at places like that before, but I've never done a tour like that before where I'm specifically not performing at comedy venues. This is my second one – I just did one in the Northwest that was only four days. I've toured with bands before, and I like that lifestyle of moving from city to city quicker and to me arriving in the city the day of doing a show means something to me. After being in a city for the day, you're kinda comfortable. You kind of lose the novelty that it's a pretty cool thing that you're touring. There are so many cool things about it, but if you're just sitting in a city doing show after show to me, it loses that appeal. I think I can tell on stage if I'm bored.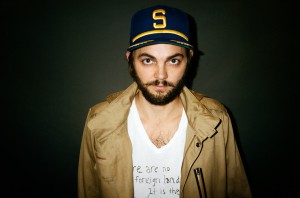 MW: How are the audiences different at something like a rock club or bookstore opposed to a comedy club?
NT: They're better crowds, I think,  because at a comedy club, there are two audiences. There is your audience, then there is a group of people who just come to comedy clubs. They just know there is a comedy club. They just go there, there is comedy. I'm doing a rock club, and people are coming to a show only to see me. There is no riffraff. There are no random people that just showed up. It's a specific audience. They know what they're getting. They're excited about it. That way I feel better about it exposing all the parts of my body and my mind.
MW: Is that why you wanted to try this kind of tour, because of the difference in audiences?
NT: I just like to try new things. It's a way of touring that some of my friends do a little more often, and I've seen other comedians do and I've just always wanted do it myself.
MW: You told Esquire that you're "definitely a daydreamer," but as we get older, "the more that part of us dies." What do you mean by that, and how does that manifest itself in your work, considering you say you like to try new things and you're still evolving your comedy?
NT: It's just life. The older you get, you realize (life is) not a puppet. There is a hand in the puppet, and there is a guy back there who is in his 30s. The allure of everything is gone, and now it's just reality and that takes away creativity, and so (you have to find) ways of chasing creativity and chasing excitement in mundane things that used to be exciting but are no longer.
I feel like I constantly have to find ways to recreate that. For instance, I've been to therapy before, and I think a lot of people go to therapy to fix what is wrong with them, but I think a lot of the ways that I've ever approached therapy, as far as it goes for self-examination, is I want to know why I'm doing something. Maybe that'll affect why I do it. It's not something I want to fix; it's something I want to understand.
MW: Is that recreation and pursuit of creativity hard?
NT: It's good to be aware of – how do you recreate it? Being aware of it is part of it, then the rest is continuing to pursue it. At some point if you're not chasing or trying to be something, or trying to learn new things – I've learned enough stuff to make probably it in the world – but that doesn't mean I want to stop learning things, even about myself or about audiences. At the same time, it's more exciting when you're exploring all these things.
Leave a Comment