Comedian Cara Connors at Cactus Club
Looking for a fun show to attend? Interested in stand-up comedy?
Cara Connors' appearance at Cactus Club last Tuesday was the perfect night out I needed. Cactus Club hosts music venues and comedy shows, and they also have a bar for those of age to drink.
Upon walking in, a bouncer checked IDs before pointing me to will call. I walked past the bar to a booth set up for checking people in. I was then led to a colorfully painted room with a stage that was slightly elevated. Loud pop music played while I looked at the cute string lights, colorful stickers on the walls and the rainbow pride flag.
Right around 8:30 p.m. the show began with two comedians opening the show. First was Erin Morris, who gave hilarious insight into her current dating life. She also joked about her previous job as a teacher, and the awful things kids have said to her.
"I had another student call me a fat whore, but I did think it was really sweet that he thought I was getting laid," Morris said.
The second opener was Maggie Winters who told stories of her previous jobs, never failing to get a laugh with each one. She also told her coming-out story, specifically how she joked with her dad over the phone.
"The vaccine made me bi," Winters said.
Finally, Cara Connors came onstage and immediately hooked the audience with her high energy and funny expressions. She told us about why her previous marriage ended.
"He wanted me to be a housewife, and I wanted him to be a woman," Connors said.
The show even featured some amazing impersonations, that gave the audience a look into Connors' acting skills. Connors interacted with her audience by asking a guy to play a creepy old man asking two girls if they were sisters when they were clearly a couple. Connors responded with a phenomenal impression of a young Lindsey Lohan from the movie "The Parent Trap," leaving the audience both amused and impressed.
One of the things that made me enjoy this show so much was her knack for good storytelling. Connors told us she went to a stand-up event with lots of other comedians, many of which were some of her idols. She makes a purposeful point to tell us that the woman who checked her in informed her that there was food for her if she wanted it.
After her performance doing stand-up, she "beelined" for the buffet table. She helped herself to some of everything before deciding to thank the woman for her hospitality. She was greeted with a confused look and a point to the bowl of chips for the comedians. It was then she realized she had eaten the leftovers of the audience members' food that the staff had cleared away and piled on a table in the back. That is too funny!
Connors also talked about what it's like being a millennial and dating Gen Z, joking that she loves their careless attitude and tendency to call people out.
She ended the show with a hilarious slideshow of pictures of her growing up while the song "You Can't Pray the Gay Away" by Laura Bell Bundy played in the background. Connors is currently touring the country with her show "$traight for Pay." I highly recommend seeing her if you can.
This story was written by Jolan Kruse. She can be reached at [email protected].
Leave a Comment
About the Contributor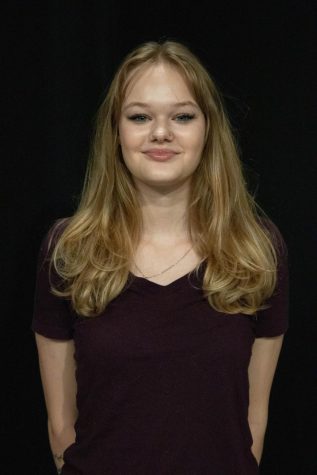 Jolan Kruse, Investigative Reporter
Jolan is an Investigative Reporter at the Wire. She is a sophomore from Arlington Heights, IL studying journalism.

In her free time, Jolan enjoys traveling,...