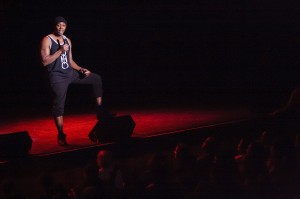 Dave Chappelle's first Milwaukee appearance in 15 years Monday was not a normal comedy show.
Every audience member was told on multiple occasions that cell phones and electronics would not be allowed at any point, even before Chappelle or local product Ryan Holman, his warm-up comic, took the stage. There were the understandable requests to not heckle or yell anything during the show, but the Pabst Theatre ushers made the point that these were not the theatre rules – they were Chappelle's. They even mentioned that these rules clearly stemmed from a 2013 incident in which Chappelle walked off a stage in Hartford, Conn. after being heckled, and a similar 2004 fiasco in Sacramento, Calif.
The rule-induced anticipation was not normal and not too relaxed for a comedy show.
Then there was Chappelle's DJ, DJ Trauma, repeatedly restating those rules and blasting music, demanding everyone get on their feet and dance to the likes of "Jump Around," "We Will Rock You" and even the "Cheers" theme song – "Where Everyone Knows Your Name" – as the audience continued to wait for one of the world's most-celebrated comedians. And – the dead giveaway that it was not a normal comedy show –DJ Trauma also told the audience on several occasions that this would "not be a normal comedy show."
It was not. But Chappelle is not a "normal" comedian.
Chappelle is the comedian who walked away from his mega-hit Comedy Central show in 2005 to travel to South Africa in frustration over where his show was headed. He has not produced a special in 10 years, but his fame remarkably hasn't faltered a bit, and that was obvious the second he took the stage to a sold-out Pabst Theatre.
Chappelle, 41, walked out comfortably smoking a cigarette in a black sleeveless shirt with corresponding black pants, knit hat and sneakers. With him were two more packets of cigarettes (he casually had five throughout the performance), and his presence immediately changed what was beginning to feel like a tense, unusual atmosphere. That mood calmed, and 1,300 fans welcomed the star to the stage for an hour of fresh, but incredibly polished, comedy that showed a new Chappelle without losing his old touch.
He started by riffing on Madison, Wis. – where he performed over the weekend – by saying he noticed "apparently (Madison) thinks plaid is back" to vociferous laughter from a star-struck crowd. He then dove into current events, making sure he got every last laugh out of Ray Rice, Adrian Peterson, President Barack Obama, Hillary Clinton, Condoleezza Rice, Paula Dean and Donald Sterling in seamless transition, and used his well-known racial spin on everyday topics.
It was a decade for many since they'd seen Chappelle on a television or stage, but he clearly had not missed a beat and his star power could still control a room – even one full of prior uneasiness from cell phone prohibition.
But even in keeping much of his classic style and tone, Chappelle matured and evolved in the decade since his last tour, and it showed.
Not only was it visible in his appearance – the once-scrawny comic was now showing off newly-forged muscles via the sleeveless shirt – but he took a step back from the racial and blue humor and presented semi-family oriented material the audience embraced just as much as the semi-expected jokes about marijuana and masturbation. Jokes about eating his kids' lunches after they go to bed received just as many laughs as jokes about foot fetishes. It was a different side of Chappelle from 10 years ago. It was not better or worse. It was just different.
Chappelle, who walked away from $55 million when he left his Comedy Central show, even poked fun at his own fame, joking that he could not believe he, as a celebrity, had to wait in line with "Asians and nerds" for the new iPhone 6. The wide range of topics from which he was earning laughs was not necessarily expected, but it showed the evolution of a larger-than-life comedian whose career took turns that were anything but expected. Old Chappelle fans will still get a kick out of his racial and sexual wisecracks, but they will be pleasantly surprised by his commentary on marriage and fatherhood that barely contains a trace of vulgarity or a reliance on shock value.
Chappelle's hiatus generated mystery about his act and career, but Monday night in Milwaukee was a comedian performing back-to-back shows comfortable in his own skin, with finely-tuned material, even dropping sometimes masterful witticism.
Chappelle performs four more shows at the Pabst – two Tuesday and two Wednesday – capping off six in three days. He then heads to St. Louis for eight shows and North Carolina for eight more before ending his tour.
It's 2014, not 2004. It's not a normal show. But it's still Chappelle, with a few charming tweaks, and audiences will still love every second.