Scholl promises dedication to student athletes at press conference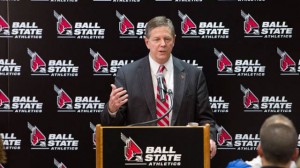 Marquette held an introductory press conference Tuesday afternoon to welcome Bill Scholl as the school's new Athletic Director and vice president.
University President Michael Lovell opened the press conference by talking about the quality of the candidates the university had to choose from.
"The pool of candidates that we got really have verified to me what a strong national reputation Marquette has," Lovell said. "It's really a destination where excellent individuals will make outstanding contributions and become strong leaders."
Lovell met with every senior leader and coach at Marquette to see what they wanted and needed in an athletic director, and used that information in the search for a new AD. Lovell looked for someone who would support Marquette's coaches,  create a unique student-athlete experience, be a partner he could work with on scholarships and funding, in addition to a leader on campus. Lovell said he believes Scholl holds all of those qualities.
"When I spoke with Bill, all of these qualities resonated with him personally," Lovell said. "I found that they defined who he was as a person … but most importantly, what Bill represents is the values that we aspire to here at Marquette University."
Lovell also commented on the reputation that precedes Scholl.
"Since making the announcement (Tuesday morning), I have been overwhelmed by people that have sent me things about Bill and the decision to make him our next athletic director," Lovell said.
Scholl received a round of applause when he stepped up to the podium, and he started his speech by listing off the historic members of the Marquette athletic department, and said how important that history was to him. He also thanked all of the student-athletes in attendance at the press conference.
"That's what this is all about," Scholl said of the student- athletes at the press conference. "That's why this is such a great intercollegiate athletics program."
While at Marquette, Scholl said he has two major goals he wants to accomplish, to convey excellence and responsibility within the program, and to provide for, nurture and develop student athletes.
"Our student- athletes will represent Marquette in a way that will make alumni proud," Scholl said. "Our student-athletes will be true students, and leave Marquette prepared to take the challenges that lie ahead of them … We will run a department the Marquette family will be proud of."
For Scholl, the biggest change comes from moving from two football schools (Notre Dame and Ball State) to Marquette, where basketball is the most attended sport. Scholl plans to take it in stride.
"I love every sport that my school plays," Scholl said. "And I don't care what school I'm at and which sport they're playing  …  I will miss football, but this is too good an opportunity, too good of a school…to not make this move."
The goal for both Lovell and Scholl are the same, to extend and promote the prominence of the Big East, and continue to remember Marquette's storied past and add to it.
"As we strive to take Marquette University to new heights, we need to take our athletics program from a great level to an elite level," Lovell said. "I couldn't be more excited, because I know Bill Scholl not only has the ability, but the wherewithal to make that happen."
"I can't wait … to help our student athletes, our coaches, and our entire athletics community reach old heights and new heights," Scholl said. "This is a program with a remarkable history, and I believe an even more remarkable future."
Scholl said that ultimately, his job comes down to wins and losses, and he will do what it takes to get those wins.
"Winning games is a very big part of fulfilling recruiting promises," Scholl said. "They do keep score for a reason, and I am a very competitive person."
Leave a Comment