Marquette faculty perform cutting-edge research in motion analysis labs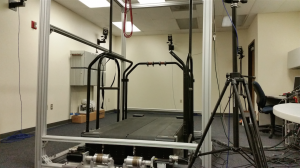 Motion analysis labs tucked away in the belly of Cramer Hall are at the forefront of research on health issues ranging from injury prevention and athletic conditioning to stroke recovery.
Allison Hyngstrom and Kristof Kipp are faculty members in the physical therapy department who research in these sensor-filled labs. They use sophisticated technology to measure data like the weight that a person places on their limbs, which muscles are active at a certain time and how people's body movements can be optimized to avoid or recover from an impairment.
"We're doing really cutting-edge research using cutting-edge equipment with patient populations while involving undergraduates, which is really what makes Marquette different," Hyngstrom said.
Hyngstrom is working to help a recovering stroke patient best learn how to walk again. She analyzes how her patients are affected by muscle fatigue by working with biomedical engineering faculty to create what she calls "cable robots." These robots allow her to increase resistance on her patient's lower extremity as they walk on a split-belt treadmill to see how they can react in real time. There are only three other robots like hers in the country.
"The impact of fatigue was more profound on walking in patients with stroke as compared to controls," Megan Rybar, a former undergraduate research assistant in the lab, said in an email. "Beyond that, it's helping to allow us to understand the ways in which fatigue affects them. To know that if they have to cross a busy street in time fatigue may impact how quickly they can accomplish that task. Relating it to function is always important in terms of patient impact."
On the proactive side of motion research is Kipp, who impacted nearly 200 Marquette student athletes with his work on sports performance. Kipp also analyzes the way his patients walk and carry their weight. He uses the data to help athletes refine the way they jump or run so they can avoid common injuries. His lab is also working to better understand hip impingements to provide an alternative to surgery and to develop technology that could extend his research outside the lab.
"The way that the technology is developing from an engineering side is that we have much more sophisticated equipment that allows us to do data collection outside of the lab in a more natural environment," Kipp said.
This would require a piece of technology called an inertial measurement unit, or IMU. IMUs are similar to a fitbit or other fitness tracker, yet they have the added capability to measure things like the impact of a wearer's steps, body sway and the length of the step. Such technological advancement could allow researchers like Kipp and Hyngstrom to learn from their patients in their natural environment, rather than attempting to apply information that was gathered in a lab to a person's daily life.
These advancements in physical therapy are redefining the ways therapists work to help their patients lead healthy, functional lives while also providing students with the chance of being involved in the scientific process.
"Research as an undergraduate allowed me to participate in and contribute to the scientific community that is increasingly depending on evidence-based practice to guide clinical interventions and treatment as physical therapists," Rybar said in an email. "By knowing more about the underlying impact fatigue can have on patients with stroke, we can hopefully treat them more effectively."