Twitter campaign starts to bring Drake to MU
Will Twitter work its magic again?
Amidst the NBA lockout in 2011, a Twitter campaign started to bring former Golden Eagle star Dwyane Wade to Marquette Madness, the annual basketball event that kicks off the season. The hashtag, aptly called #BringWadeToMadness, worked, and Wade showed up to a raucous crowd. Other Marquette basketball alums Wesley Matthews, Jimmy Butler, Lazar Hayward and Steve Novak also showed up to show support for their former program.
Three years later, the hashtag is coming back, this time trying to get rapper Drake to come to Madness.
It started when Haanif Cheatham, a 6-foot-5 guard from Florida, announced Friday afternoon he would be joining coach Steve Wojciechowski's 2015 recruiting class, regarded as one of the best in the country right now. Drake posted a photo to Instagram Saturday of Cheatham's press conference with the caption, "Congrats to my young'n @hcheatham22 very proud."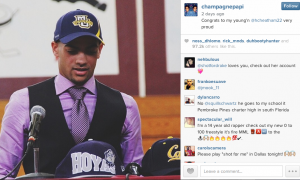 How Drake and Cheatham are connected is relatively unknown. However, at time of posting, Drake's post has more than 97,000 likes.
The Instagram photo has started a whirlwind on social media, culminating with the hashtag #BringDrakeToMadness. The user @mubbnation first used it, but it started to take off when senior forward Juan Anderson tweeted, "#BringDrakeToMadness @Drake."
While Cheatham does not come to campus until next year, it make sense to start the campaign right after Drake's initial post. If it succeeds, Marquette may want to think about holding Madness at the Bradley Center rather than the Al McGuire Center.
View Comments (1)