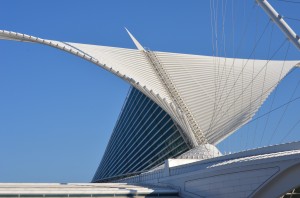 Whether you are an incoming freshman looking for a downtown adventure or a fifth-year senior hoping to cross the last remaining items off your college bucket list, take the time to visit these 10 locations that embody the Milwaukee identity.
10) Cathedral Square Park: Located on Kilbourn Avenue and N. Jefferson Street, Cathedral Square is a prime location for uniquely "Milwaukee" events like Jazz in the Park or simply taking in the city's scenery. Buy fresh produce in the park from East Town Market every Saturday until Oct. 4. It also lights up cold winter nights with an extensive and colorful Christmas lights display.
9) Milwaukee Pierhead Light: Few Midwestern universities have the luxury of being close to any body of water, much less Lake Michigan. Yes, this does mean dodging seagulls on the way to class, but it also means access to attractions like the Pierhead Light. Built in 1906, the active lighthouse continues to aid vessels in the Milwaukee Harbor. Its pier at the entrance to the Milwaukee River is open to the public, making it a chill aquatic hangout or a noteworthy location for a lakeside picnic.
8) Oscar's Pub and Grill: Marquette may have Sobelman's, but Milwaukee has other delicious burger joints, namely Oscar's Pub and Grill by the Menomonee Valley. With menu items like The Big O, The Big Foot and The Big Gringo, it's obvious owner Oscar Castaneda cares about the size of his burgers, which live up to their titles. The pub also offers weekly specials, including 45-cent wings and $2 mystery beers every Thursday. Plus, it has a ping pong table. Is there more you can ask for?
7) Kopp's Frozen Custard: Actually, there is more you can ask for from a burger joint, like signature Midwestern custard. That's exactly what you get at Kopp's, a Wisconsin dessert landmark for over 60 years. Not only are the burgers large enough to cover your entire face, but also the custard flavors change daily. Monday's flavor forecast calls for Lemon Meringue Pie and Strawberry Cheesecake. Intrigued? The closest location is in Glendale near Bayshore Mall.
6) Miller Park: Which baseball team has the best standing in the National League Central Division? What organization lets oversized sausages race in front of thousands of spectators? Who has an adorable white dog as a mascot? If you couldn't guess the Milwaukee Brewers, you haven't been in Milwaukee long enough, and the best place you can see them is at Miller Park. Start off with a tailgate, then treat yourself to a baseball experience only Milwaukee can provide, complete with a retractable roof and an appearance from Bernie Brewer.
5) Rochambo Coffee and Tea House: You love studying at coffee shops, but the Brew is always crowded and Starbucks is too mainstream. What do you do? Take a ride down to Brady Street and stop in Rochambo. The hipster hang-out has a relaxed atmosphere ideal for studying or catching up with friends. It's the only local purveyor of the herbal tisanes from Nuwati, Native American healing herbs. The coffee selection includes award-winning Irish coffees and specials like the chocolatey Milky Way. While you are down there, be sure to check out the numerous other venues Brady Street has to offer.

4) Milwaukee Art Museum: Home to over 30,000 works of art, the Milwaukee Art Museum has a collection spanning across centuries of artistry, including one of the country's largest collections from Wisconsin native Georgia O'Keeffe. Both the permanent galleries and exhibitions display a wide variety of styles and media, from Italian Renaissance masterpieces to American folk art. Even the building itself, specifically the Quadracci Pavilion created by Santiago Calatrava, is a work of art. Visiting the museum also gives you a chance to explore Milwaukee's picturesque lakefront.
3) Joan of Arc Chapel: Most Marquette students do not realize they live just blocks away from the oldest building in Milwaukee. But before Joan of Arc Chapel made it to campus, it was known in 15th century France as Chapelle de St. Martin de Sayssuel. It was later deconstructed and moved to Long Island in 1927. In 1964, its then-owners gave the chapel to Marquette as a gift, so it was again taken apart, reassembled and reopened to the public two years later. Stop in to admire a little piece of history or to attend a service, including the well-attended Tuesday night masses at 10 p.m.
2) Milwaukee Public Market: The city's premier culinary destination provides more than just high-quality food, though its 18 different vendors do carry everything from local cheese and sausage to Middle Eastern cuisine. Its authentic marketplace atmosphere turns everyday grocery shopping into a quest for your new favorite dish. The building, with its name written in glowing red neon lights, is a local icon; it even makes a cameo in "Bridesmaids." Whether you're exploring for the first time or going back for your weekly order, the market is just far enough from campus to make any dine-out into an adventure.
1) The Oriental Theater: Considered one of the country's best movie theaters, the Oriental is second to none when it comes to Milwaukee cinema. Its movie palace architecture and ornate furnishings have caught the eyes of moviegoers since it opened in 1927. It holds three screens – for both popular and indie films – and a Kimball Theatre Pipe Organ, whose nostalgic sounds introduce every 7 p.m. show in the main theater Fridays and Saturdays. The surrounding shops and restaurants make it a notable date location. A classy movie at a classy theater after a classy meal? You will win over your sweetheart the same way the Oriental has won over the hearts of movie-lovers throughout the city.
Story continues below advertisement