Bishop resigns as opus dean of College of Engineering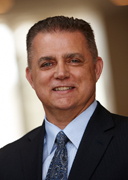 Another university leadership position was vacated today, as Robert Bishop resigned as opus dean of the College of Engineering, effective immediately.
Bishop will become the dean of the College of Engineering at the University of South Florida, and Executive Associate Dean Kristina Ropella will serve in Bishop's place on an interim basis until a permanent dean can be found.
"Throughout her career, Dr. Ropella has been looked up to as a leader and problem solver," said Margaret Callahan, interim provost and dean of the College of Nursing, in a university-news brief. "As evidenced by the variety of scholarly and professional recognition she has received, including serving as the college's executive associate dean, she is poised to keep the momentum of the college moving forward."
Ropella, who graduated from Marquette in 1985 with a degree in biomedical engineering, served as a faculty member for 24 years, including nine years as chair of the department of biomedical engineering.
Callahan said in the emailed news brief that a search committee will be formed in the coming weeks that will draw input from faculty and members of the provost and president's offices.
The search for Bishop's permanent replacement follows an academic year that saw vacancies at university president, provost, business dean, Department of Public Safety chief, athletic director and admissions dean. Only the president and DPS chief vacancies are permanently filled, with University President Michael Lovell and Senior Lt. Paul Mascari, respectively.
Leave a Comment