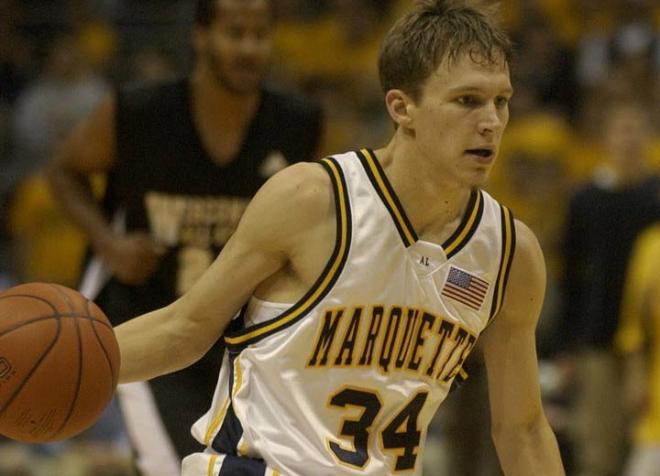 Former Marquette basketball star Travis Diener will be the men's basketball Director of Player Personnel, coach Steve Wojciechowski announced Wednesday morning.
Diener's hire is the last full-time staff member hire by Wojciechowski.
"I am excited to be coming back where it all began for me," Diener said. "I am extremely humbled that Coach Wojciechowski thinks highly enough of me to give me this opportunity as I start the next chapter in my life and more importantly come back to the place that means so much to me and my family."
Diener, who played at Marquette from 2001-2005, just finished his professional basketball career when he made a playoff appearance with Dinamo Sassari of the Serie A league, the highest professional basketball league in Italy. Before playing in Serie A, he played six seasons in the NBA, playing for the Orlando Magic, Indiana Pacers and Portland Trail Blazers. The Magic selected him 38th overall in the 2005 NBA Draft.
But Diener is more remembered by his exceptional play while wearing Marquette colors. Diener is the sixth all-time leading scorer in Marquette history (1,691 points), second in 3-pointers made (284), third in assists (617) and ninth in steals (158). He was also an important piece in the team's 2003 Final Four run.
Wojciechowski said Diener's successful Marquette career is one reason why he was hired as Director of Player Personnel.
"Travis has a unique and special place among the many great players here at Marquette and represents what we want our program, and the young men who wear the proud Marquette jersey, to be about on all levels," Wojciechowski said. "He adds tremendous value to the program, school and already terrific staff."
Diener joins Chirs Carawell, Justin Gainey, Brett Nelson on Wojiechowski's staff for the 2014-2015 season. The team has two summer workout sessions before starting practice in October.