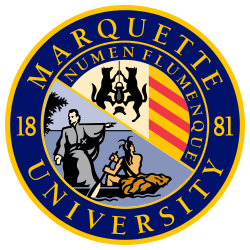 On April 15, allegations of sexual misconduct and hazing came to our attention involving three chapters of the Marquette University Interfraternity Council. All chapters of the Marquette Greek community have been and will continue to be fully cooperative with all investigations regarding the allegations. As a professional organization, it is of the utmost importance that we address this sensitive issue to respect both the process and individuals involved. We have discussed the matter in detail and are addressing the matter with careful consideration.
The Marquette Greek community holds a zero-tolerance policy toward any sexual and social misconduct. In our growing Greek community, we strive daily to support the values embodied by all National Panhellenic Council, National Panhellenic Conference and Interfraternity Council organizations with the goal of bettering our members as a whole.
As stated in the Marquette Greek Life mission statement, we exist "to enhance the lives of individuals by raising awareness and serving the needs of Marquette University and the greater Milwaukee community." Our chapters continually uphold this value by sponsoring service events that seek to better the lives of people living in Milwaukee. The Panhellenic and Interfraternity councils recently raised over $2,500 for the Milwaukee Public Schools scholarship foundation. According to the fall 2013 Greek Report, the Marquette Greek community has dedicated over 2,500 hours of hands-on service to the Milwaukee community. Additionally, we were able to raise over $47,000 for national and local charities in 2013.
The Marquette Greek Life mission statement also maintains that "Marquette Greek Life strives to strengthen its members through scholarship, leadership and service." Last semester, the all-Greek  was 3.06 which exceeded the all-University GPA of 3.047. 70.7 percent of Greek members are involved in other campus organizations, with 27 percent holding leadership roles. As part of our scholarly development, our chapters also participate in regular programming that includes mental health awareness, alcohol awareness and hazing prevention programs. These facts show our members' desire for continuous personal and intellectual growth.
While little is known at this time regarding the specifics of the issues at hand, the chapters of the Marquette Greek community will continue to support each other. Regardless of the outcomes, we stand as one united community that is growing, learning and leading together. We strive to uphold not only the pillars of our university, but also the tenets of each of our chapters.
We are Marquette. We are Greek Life.
– Joint statement by the Marquette Interfraternity Council and the National Panhellenic Council
Story continues below advertisement