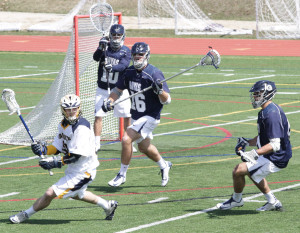 The men's lacrosse team faces one of its toughest tests of the season this Saturday as it heads west to take on the No. 3 ranked Denver Pioneers.
With their win over Georgetown last weekend, the Golden Eagles secured a position in the Big East Tournament. If Marquette wins this weekend, it will be the Big East regular season champions in the team's first year in the conference.
Denver (11-2, 5-0 Big East) has not lost since March 1, going undefeated thus far in conference play. The Pioneers only losses came to two Top 10 programs, No. 2 Duke and No. 8 Pennsylvania. The team's most impressive win of the season came March 8, when it took down No. 9 Notre Dame. Besides a tight overtime victory against Villanova, Denver also cruised through the Big East. The team won each of its other four games by at least six goals.
This is the second meeting in history between Marquette and Denver. Last season, the two played as non-conference foes, with Denver finishing on top, 15-4. The Pioneers were ranked third in the country at the time.
The Pioneers' offense is led by two stellar attackmen, junior Wesley Berg and sophomore Jack Bobzien. The two are tied for the team lead with 46 points. Berg, in his second season since moving from midfield, is one of many Canadians who translated his indoor lacrosse skills to field lacrosse. This is Bobzien's first year in Denver after transferring from Hartford. Together, Berg and Bobzien's point totals are tied for third in the Big East, behind Marquette redshirt senior Tyler Melnyk (50) and St. John's senior Kieran McArdle (74). The pair have been a huge factor in Denver staying on their top 10 pace, despite losing top players to graduation, like Eric Law and Mark Matthews in recent years.
Marquette (6-8, 4-1 Big East) will need balanced production from its top scorers if it hopes to keep pace with the Denver team that ranks sixth in goals for and 13th in goals against in Division I. To stay competitive, Marquette will not only need production from Melnyk, who scored four goals against Georgetown, but also from sophomore Connor Gately, redshirt sophomore Kyle Whitlow and redshirt senior Bryan Badolato.
The game will be the regular season finale for Marquette – the second straight season where the Golden Eagles ended their regular season to a top 10 opponent. Faceoff is set for 1 p.m. at Peter Barton Lacrosse Stadium. After the trip, the team will have a quick turnaround, as it begins the Big East Tournament Tuesday.