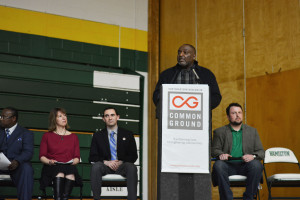 Five years before Miller Park opened for the Milwaukee Brewers' 2001 season, a 0.1 percent sales tax increase was instituted in Ozaukee, Washington, Waukesha, Racine and Milwaukee counties for the park's $290 million in public funding. The sales tax is predicted to continue for another six years.
With preliminary rumblings now underway about a potential new arena for the Milwaukee Bucks, public funding could again become a discussion point. One group, which involves Marquette students, thinks that needs to come with a stipulation.
Nearly 200 Marquette students were among a crowd of more than 500 people who voted in favor of Common Ground's Fair Play motion Tuesday, which would only support public funding for a new Bucks arena if funds are also dedicated toward improving public schools' athletics facilities, playgrounds and recreational spaces.
The motion proposed at a Common Ground delegates' assembly at Hamilton High School stated, "Common Ground will support public funding for a new Bucks arena if there is a $150-$250 million investment in Fair Play," but would oppose public funding if the investment in fair play is not included. Of the 597 in attendance, 524 voted 518-to-6 in favor of the motion, with Marquette's delegation of 184 voting 180-to-4 in favor.
The participation from Marquette students in the groupvis partly the result of the course "Special Topics in Social Welfare and Justice: Community Organizing Course," which is taught by Bob Connolly, a Common Ground organizer. Sofi Gomez, a senior in the College of Arts & Sciences who is in Connolly's class, was at the event and said it was a great start for the campaign.
"Common Ground doesn't give up," Gomez said. "(The event) was a great first start. Obviously, Common Ground is going to keep moving forward (with the Fair Play campaign)."
Organizers for Common Ground clarified that the group is not necessarily against public funding for the arena, but it wants to see the additional funding for public schools' athletic and recreational spaces before it gets on board.
"The essence of our message is that if the Bucks get a great place to play, our kids get a great place to play," said Jennifer O'Hear, chairwoman of the Fair Play campaign. "If we're going to spend public money to build a new arena for (the Bucks), we should also invest in play spaces for our kids."
O'Hear spoke to the delegation before it voted on the motion and was joined by several other Common Ground organizers and Fair Play supporters. Franz Meyer, co-chairman of the OK Group, made the point to supporters that they, as taxpayers, need to be included on any decision made with public funding for a new arena.
"We realized we could not let this decision be made with our tax dollars without us," Meyer said, receiving applause. "If the Bucks are going to get a $400 million place to play, then it's only fair that our children get a $150-$200 million place to play."
Chatter over a new arena in Milwaukee heated up in September when NBA commissioner Adam Silver, then deputy commissioner, said the BMO Harris Bradley Center is unfit for the league.
"One obvious issue we all have to deal with is we need a new arena in Milwaukee," Silver said during a luncheon with Milwaukee Bucks corporate sponsors.
Silver added that there will need to be a shovel-ready plan ready for a new arena by the time the Bucks' lease with the Bradley Center ends in 2017.
While the Bradley Center may be unfit for the NBA, Common Ground released a study in June of 268 public athletic and recreational sites in the county and found that 65 percent of them were "terrible, poor or fair." Jake Haskell, the head football coach at Hamilton High School, added Tuesday that he believes improving those athletic and recreational spaces could lead to more success from students, which in turn would lead to "community success."
Common Ground is planning a larger rally in October, which it predicts will draw more than 1,000 attendees. The group expected to have 500 attendees at this week's rally and was pleased to see almost 600 people there.
"After this assembly, you're going to see a reception and you're going to see the reaction of the city," said Lloyd Johnson, co-chairman of the OK Group. "That's what the purpose of this assembly was – to get this on the map, to get people thinking about this, to get people educated on the Fair Play act. A lot of people are not educated and might not even know what was going on, so this assembly makes people aware of what was going on."
Common Ground launched in Milwaukee in 2008. It now has 48 different member organizations, including Marquette University's Common Ground.