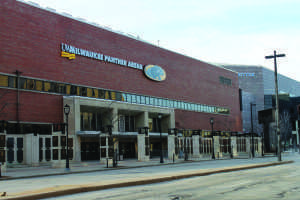 The plan to build a $500 million Milwaukee arena to replace the outdated BMO Harris Bradley Center appears to be moving forward, but Wisconsin Assembly Speaker Robin Vos attempted to put a wet blanket on the deal when he said he would not support giving state funds to a new arena, the Chippewa Herald reported.
While the Milwaukee Bucks are considering a number of locations for the new arena, they currently prefer the land adjacent to the Bradley Center, which houses the Milwaukee Journal Sentinel, the University Wisconsin-Milwaukee Panther Arena and the Milwaukee Theater.
Journal Communications, which owns the Milwaukee Journal Sentinel, is open to selling the land. Don Walker, who is studying the new arena as part of a fellowship with Marquette Law School, said even if the Bucks don't buy the land, Journal Communications may still seek to sell it.
However, problems arise with the sale of the UWM arena and the Milwaukee Theater.
Frank Gimbel, chairman of the Wisconsin Central District, which owns the UWM arena and Milwaukee Theater, opposes any move to tear down either of the buildings.
He told the Journal Sentinel he is worried about displacing tenants such as the UWM basketball team and the Milwaukee Wave indoor soccer team.
Financing taxes remain a large concern for Milwaukee residents.
"The greatest obstacle (in building the arena) is that there is very strong opposition to any public tax," Walker said.
Although former Sen. Herb Kohl and current Bucks owners Marc Lasry and Wes Edens each committed $100 million dollars to the project, Lasry and Edens previously stated that a tax will be necessary. Any public tax will likely have trouble passing the Republican legislature.
A highly divisive method proposed to alleviate the public tax burden on the public is the "jock tax," a form of income tax placed on wealthy athletes who travel and make money in Milwaukee.
According to a September Legislative Bureau report, the "jock tax" could raise $10.7 million a year over the next 20 years. The $214 million raised would finance $150 million dollars of general obligation debt with $64 million dollars paid in interest.
University Spokesperson Brian Dorrington said Marquette will continue to play a part in the talks regarding the new arena.
"President Lovell has met with the Bucks owners multiple times to get a better understanding of their overall vision and plans," Dorrington said in an email. "Rather the comprehensive vision for the new arena, the overall development plan and Marquette's prospective role."
NBA commissioner Adam Silver visited Milwaukee two weeks ago to discuss progress made on building the arena, as well as meeting the 2017 deadline. If Milwaukee does not have a new arena by the 2017 season, the NBA has the option to buy the team back and sell it to another city.