KILLIAN: Wojciechowski leaves solid first impression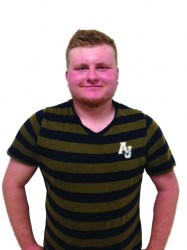 When Buzz Williams bolted for Virginia Tech, many Marquette students believed his true character was revealed in his final hours with the Golden Eagles.
After watching Williams' replacement give his introductory press conference Tuesday, I believe a great deal of his character has been revealed as well.
I was admittedly a little skeptical heading into the Al McGuire Center to see Steve Wojciechowski address both media and the general public.
Mainly, I was concerned with the concept of hiring another assistant who might be looking to build his resume over the next three to four years before jumping ship to another program.
It's hard to blame anyone part of a university that's been jilted back-to-back by two of its most successful coaches for being distrustful of the next one up.
But while listening to Wojciechowski and getting the chance to talk a little with him one-on-one, one adjective kept coming to mind: genuine.
Here was a man who'd left behind the very same conference Buzz Williams jumped to for what Wojciechowski described as "the perfect job" that he'd waited on for years. Rather than a good basketball coach interested in changing the culture of a football school, he's a good basketball coach excited to succeed immediately in a basketball conference.
He's a man who comes from a school where "the basketball team and student body are one." His experience at Duke instilled a mindset that the men's basketball team is a part of the whole university rather than a separate entity. For a program that's experienced declining attendance in recent years, that's a breath of fresh air.
Wojciechowski talked about his family and even got a little choked up mentioning his wife and children's impact on his decision. It surprised a few people, but in my mind made him that much more genuine – not necessarily as a coach, but as a person. He clearly values the big decisions in life, as simply addressing his decision prompted an emotional response. There will be plenty of time for stone-cold, emotionless pressers after a loss. But during his introduction, he showed he's as human and passionate as any of us might be when accepting the biggest job of our careers.
After introducing myself to him as a member of the Marquette Tribune, it no longer shocked me that university officials were "blown away" by his interview for the position. He shook my hand saying he was excited to get to work with us before answering my question in full without once acting rushed.
Maybe I'm hoping a little too hard for the loyal coach Marquette deserves and buying too much into initial reaction, speech tactics and good PR.
The concerns about him eventually leaving for another program were, of course, subdued on Wojciechowski's first day on the job. But they'll certainly reappear throughout his Marquette career should he have success, and only then will Marquette know if he truly stands by Tuesday's list of claims.
But as he said to all of us, "I think trust is built by telling the truth and doing your best every day."
For now, Wojciechowski seems content with building up a Marquette program from an already solid foundation and making it his own.
And if first impressions mean anything, I believe he will.