Michigan scorches past Texas to the Sweet Sixteen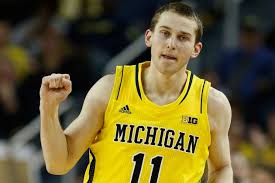 MILWAUKEE — The second-seeded Michigan Wolverines relied on a steady dose of the 3-pointer in route to it's second-consecutive Sweet Sixteen appearance in a 79-65 victory over the seventh-seeded Texas Longhorns.
The Wolverines are one of the most potent teams from beyond-the-arc, shooting just under 40-percent from long distance. Against the Longhorns, the team shot 50 percent from three, which accounted for 42 of the team's 79 points.
"Against a 3-point shooting team, we thought we could push it and go at it," Texas head coach Rick Barnes said. "We weren't running. I thought if we could get it down to six we would have a shot to fight back and we had chances twice, but just couldn't do it."
John Beilein's team didn't trail after the 14:17 mark in the first half, but had to withstand a second-half rally from the Longhorns. Trailing by 18 at the 16-minute mark, Texas went on a 17-5 run that trimmed Michigan's lead to just eight.
But, in the arena where his father played eight seasons with the Milwaukee Bucks, Glenn Robinson III came up with his biggest stretch of the game, scoring five unanswered points in 41 seconds to dish the final blow to the Longhorns.
"It's an honor to play in the same arena that he had," Robinson III said when asked what it meant to have such a strong performance at the BMO Harris Bradley Center. "To be able to have a big game here is important and I know it reminds a lot of people of my dad, but at the same time I wanted to do what I had to do to help my teammates out."
Beilein, who captured his 700th victory on Saturday, said that this wasn't the first time Robinson has come up clutch when the tide was turning against his team.
"There's been five times now when the game's going the other way and Glenn Robinson stepped up," Beilein said. "He picked a great time to do it."
Michigan had four scorers in double figures. Nik Stauskas led the way with 17, Jordan Morgan chimed in with 15 points and 10 rebounds and Glenn Robinson III and Caris LeVert both scored 14.
Texas was led by freshman guard Isaiah Taylor, who scored 22 points, followed by Martez Walker with 14. Sophomore center Cameron Ridley, who scored 17 points in Texas' overtime victory over Arizona State, was held to just six points on Saturday.
"I think we didn't use Cam as much as we should've," Texas forward Jonathan Holmes said. "We had to realize that Cam was down there and crashing the offensive glass. We could have used him more tonight."
Morgan was the man responsible for eliminating the six-foot-nine, 285 pound sophomore from the contest. He said the key to shutting him down was not letting him get close to the basket.
"He's got so much size, you can't let him get close to the basket," Morgan said. "We wanted to make all of his post touches away from the basket and really be aggressive with double teams and swiping at the ball."
Beilein said one of his biggest concerns going into the matchup against Texas was containing Ridley, but said that Morgan owned the responsibility right away.
"Jordan just said, 'I got him coach, don't worry I got him,'" Beilein said.
Michigan will move eastward to Indianapolis to play the winner of Tennessee and Mercer on next Friday. Beilein said it is hard to compare this season's run to the team that came one game short of a national championship a year ago, but did say that both teams do share a similar quality of resilience.
"What I do like about this team is that they've never lost two in a row and they get better in victory and defeat," Beilein said. "This team has an attitude that is similar to that team, in terms of picking themselves up when things don't go well."
Leave a Comment