Pilarz hired as Georgetown Prep president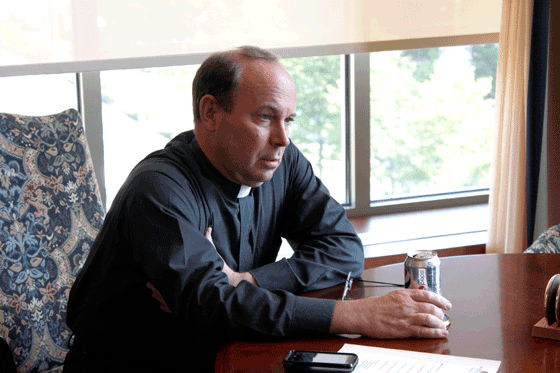 Former Marquette University President the Rev. Scott Pilarz will take over as the next president of Georgetown Preparatory School in Maryland July 1, the school's board of trustees announced Tuesday.
In a letter to the Georgetown Prep community, Board of Trustees Chairman Thomas Boyland called Pilarz an "outstanding, teacher, and leader" and pointed to his tenure leading both Marquette and the University of Scranton eight years prior as evidence. He also mentioned Pilarz' place on St. Joseph University's board of trustees.
The board of trustees voted unanimously to name Pilarz the next president, ending a nine-month search for the school.
"I look forward to working with Prep's excellent faculty and staff to challenge, support, and care for Prep's students as they develop into accomplished scholars, athletes, artists, men of faith, and generous citizens in their communities," Pilarz said in a press release. "I am eager to work with the entire Prep community to ensure Prep's continued success as an outstanding school, enhance its Ignatian spirituality, and ensure a vibrant Prep for future generations."
Pilarz's departure from Marquette was announced in a statement emailed to the Marquette community Sept. 20. The statement said Pilarz told the university's board of trustees at its Washington D.C. meeting that week "I believe the time has come to consider other apostolic opportunities for me as a Jesuit priest. I have made this decision after much prayer, discernment and conversation with religious superiors, my spiritual director and others whose counsel I have sought over the past three years."
Pilarz said in a letter to the Marquette community Sept. 25, he wished to expand his work as a Jesuit.
"For example, I desire to do more pastoral work than I have been able to do as a president," Pilarz said in the letter. "I also want to do more teaching, research and writing."
University President the Rev. Robert A. Wild took over for Pilarz in October after serving in the same role from 1996-2011. The university also formed the presidential search committee, led by board of trustees member John Ferraro, in October, which is still conducting its search. The search committee said Monday that it is continuing its vetting process for semi-finalist candidates.
Leave a Comment