Marquette loses heart-breaker in double overtime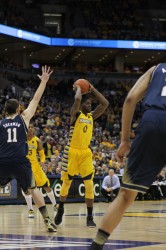 If Bryce Cotton was trying to make a statement on his senior night, it was heard loud and clear.
The Providence player flirted with a triple-double (25 points, seven rebounds, nine assists) and played all 50 minutes in his final home game as the Friars beat the Golden Eagles 81-80 in double overtime Tuesday. Other key players contributing to Providence's win were LaDontae Henton with 20 points and 16 rebounds and Josh Fortune with 15 points in the second half alone.
Junior Todd Mayo scored 26 points and grabbed 11 rebounds, senior Davante Gardner scored 15 with 10 rebounds and senior Jamil Wilson contributed 11 points and 14 rebounds.
Marquette slipped to 9-8 in the Big East, fading its at-large bid hopes for Selection Sunday and putting it in a position to need to win the conference championship next week to go dancing.
The Golden Eagles shot 34.7 percent and had tremendous difficulty with the Friars' zone for much of the night. As defenders tried to keep a close eye on Cotton, Fortune and Henton took initiative to make sure he received the proper senior night sendoff.
Henton converted on two important four-point plays in the second half to give Providence the momentum it needed.
"They did a lot to get here, so they're all good players," Jamil Wilson said. "They all came out to play. Every team has good players. You just have to find a way to take them out. We did a pretty good job on the three, and (Fortune) stepped up. He did what he was supposed to do. When you get called on, you're supposed to make shots."
Trailing by one with 7.2 seconds left in the second overtime, Mayo misfired on a long jumper. Gardner's put-back under the basket fell short and the Golden Eagles lost their second straight game.
Moments before, senior Jake Thomas caught an inbound-pass but was immediately swarmed by defenders, forcing a jump-ball and giving the Friars possession.
Junior Derrick Wilson got tangled with Cotton on PC's inbounds pass, leading to the two pivotal free throws. Cotton shot 13-of-15 from the charity stripe for the night.
Despite the loss, Marquette enjoyed a 57-3 edge in bench points and outrebounded Providence on the offensive glass 21-8.
Providence did most of its damage from mid-range; the Friars were outscored 32-14 in the paint. Cotton created his own shots with relative ease and smoothly found Henton and Kadeem Batts (12 points) on the occasional back-door cut or drive-and-kick.
Marquette fought back from a 52-41 hole with 8:48 left to take a 56-55 lead on a Mayo 3-pointer with less than two minutes remaining. Mayo scored eight in that stretch while Gardner pitched in six. The Friars were held scoreless for five minutes, marking a major turning point after an 11-0 PC run.
"That's huge," Jamil Wilson said. "That's what we try to do. We're a defensive-minded team. We try to make our defense help our offense. That's what we're built on. That's something obviously we needed, and guys came ahead and put it on the line. Fortunately, we got it into overtime; we couldn't execute late."
The Golden Eagles also spoiled chances to win in the first overtime and during regulation. Mayo missed a three in the final seconds of the first overtime.
Gardner made a 70-footer just moments after the horn sounded in regulation in a flashback to the DePaul game two weeks ago when Derrick Wilson made a shot in similar fashion. The Dunkin' Donuts Center fell into an uneasy silence as the Golden Eagles celebrated at the baseline, but the shot would be quickly waved off upon replay.
"I saw it go in, but I was just trying to keep our guys from acting like clowns," coach Buzz Williams said. "I didn't have an angle — horn, light, all that — they said it wasn't close though."
Leave a Comment