Tennis teams pick up shut out wins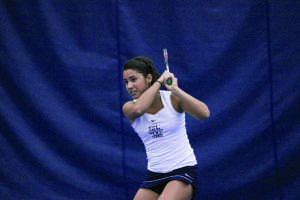 The women's tennis team fell in its first match of the day to Iowa, but rallied for a shut out win against Western Illinois later that day in its double header last weekend at the Helfaer Tennis Stadium.
Against Iowa, Marquette was unable to win at any position, except for senior Rocio Diaz at No. 6 singles. Diaz took on Iowa's Elle Silver and defeated her in a third set tie-break (12-10) after the two women split sets.
The women then went on to play Western Illinois in the evening. The women dominated, winning every court and giving up only two games collectively.
Sophomore Aina Hernandez Soler made her spring season debut at No. 3 doubles with partner junior Vanessa Foltinger and at No. 5 singles. After suffering a collarbone injury in the offseason, Soler brought in two wins to mark her return. Sophomore Erin Gebes and Diaz played first doubles and junior Ana Pimienta and sophomore Aleeza Kanner played second doubles. All four women also won their singles matches along with junior Ali Dawson.
The women's team improved their home record to 3-2 after the matches. Their next match will be home against Milwaukee Feb. 19.
The men also brought in a shut out win (7-0) Thursday against Wright State. Only their third home match of the season, the men easily passed opponents to bring their home record to 3-0.
Senior Dan Mamalat went undefeated for the third match in a row and was recently named the Big East Conference Player of the Week. Mamalat and junior Vukasin Teofanovic won at No. 1 doubles and first and second singles, respectively. Junior Cameron Tehrani and freshman Nick Dykema won 6-1 at third doubles, giving Marquette the doubles point and putting Marquette ahead 1-0 going into singles play. Tehrani and Dykema won their singles matches along with senior Logon Collins at No. 3 singles and freshman Kristiyan Trukov at No. 6 singles.
The men will face Denver Friday and Bradley and South Dakota State Saturday. The men will play all three games scheduled for next weekend at the Helfaer Tennis Stadium.