Women's tennis scores pair of shutouts on senior night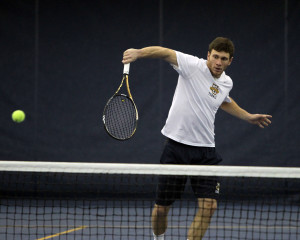 The women's tennis team celebrated senior night with a pair of shutout wins Friday, which started off with a 7-0 win over Cincinnati.
Sophomore Erin Gebes and senior Rocio Diaz (No. 2 doubles) solidified the doubles point 8-6 after third doubles team Ana Pimienta and Aina Hernandez Soler won their match 8-2. The women moved onto singles play and won on every court.
With Cincinnati behind them, the women moved onto Chicago State where senior Diaz was honored as the only senior on the team. Diaz earned her 100th career win as a doubles and singles player against Chicago State. Diaz won at second doubles with partner Gebes as well as a decisive 6-0, 6-0 win at No. 6 singles.
The other victors of the night were, in order, Pimienta, Gebes, Vanessa Foltinger, Aina Hernandez Soler and Laia Hernandez Soler. The women ended their last home match with another 7-0 victory. The team's last match of the regular season will be Saturday, April 19 against DePaul University in Chicago.
The men team's fought back for a 4-3 win against DePaul Saturday. The Golden Eagles fell behind early in the match by losing the doubles point. DePaul began to pull away, leading the Golden Eagles 3-1. However, the men rallied in the third set at third, fourth and sixth singles to bring home the win.
The match came down to freshman Nick Dykema at No. 4 singles. When it was tied at three a piece when Dykema won 7-6 in a tough third set decision, giving Marquette the win. Senior Logon Collins, junior Cameron Tehrani and freshman Kristiyan Trukov also won their singles matches.
The men will end their season at home with a pair of matches over Easter break against Creighton and Butler.