MTV's newest reality show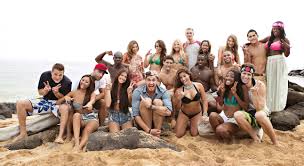 MTV's newest reality show is called "Are You the One?" and could best be described as a mix between "The Real World" and "The Bachelor." The folks over at MTV sure know what they are doing because they have once again hooked me onto another reality TV show.
The show contains 20 single individuals who are searching for their perfect match. Each contestant went through extensive tests – including psychological evaluations – to help determine who their perfect match is. If everyone in the house can find their perfect match within the ten trials, then they all split one million dollars. Each week a couple is voted  by the house to go into the "Truth Booth" to see if they are a perfect match. So far, there hasn't been any correct matches. Then, at the end of the show, each person pairs up with another contestant to see if they are the correct pair. While the results tell how many couples are correct, it does not say which couples are a match.
In the first week  contestants got two correct pairings, then four the following week, but regressed to two correct pairings the last two weeks. They only get 10 chances in order to find out if they are correct otherwise they don't win the money. After watching two episodes, I was hooked. I have to find out who are the perfect matches now.
This past week's episode I thought for sure that they were going to reveal a perfect match in the "Truth Booth," but no such luck. Couples that I thought for sure were matches ended up not being so. Now I am thinking that less obvious couples are going to be matches, but that didn't work either from the results of this week.
MTV came up with a great idea for  show and clearly they know how to hook audiences. Not only are the contestants looking for love, but they have to deal with living with 19 strangers. If you start watching the show, you are definitely going to want to find out who ends up with who.
"Are You the One?" airs on Tuesdays at 10 p.m. on MTV.
Leave a Comment