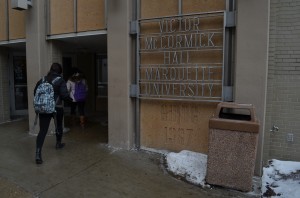 The Office of Residence Life, the Office of the University Architect and the Office of Finance are expecting to have a feasibility study regarding McCormick and O'Donnell halls and Marquette's campus dining options completed by the spring.
The feasibility study was prompted by a visit from outside consultants in 2005, who suggested further creation of living-learning communities, the enhancement of Carpenter, Cobeen and McCabe halls, and a deeper look into the condition of McCormick.
Jim McMahon, the dean of residence life at Marquette, said no conclusions are made, as the study is ongoing.
"Part of this (study) is determined by how much will it cost us to do the renovation work that's necessary." McMahon said. "We have to decide whether it is worth putting 20 or 30 million dollars into renovating old facilities, or should we look at the prospects of building something new."
Charlie Haas, project manager in the Office of the University Architect, said the basis behind the study is to evaluate how to keep Marquette's residence life on-par with that of other institutions.
"There's a lot of competition for good students," Haas said. "As a way to look at keeping ourselves at a good tier, we look at our residence halls."
The feasibility study is also examining the condition of the six dining halls on campus. McMahon said the kitchen equipment is also aging and may not be worth fixing.
"We're also looking at the feasibility of instead of replacing all this old equipment, maybe building two large dining halls at either end of the campus," McMahon said. "When you do something new, there's so much more you can do with it. You can build some communities in dining halls that draw some of the different residence halls."
Both McMahon and Haas said there are three central components to the feasibility study regarding McCormick and O'Donnell: the style of rooms currently available, the potential location of a new building and the financial feasibility of new projects or renovations.
Haas said both halls are classified as traditional-style dorms because they are double-occupancy rooms with a large community bathroom, but mentioned some trends are going away from that conventional style.
"We're trying to give students and their families different options," Haas said. "We need to look at how we can be competitive, what kind of options we should provide and if we wanted to change our housing stock, how would we do it?"
Haas said McCormick and O'Donnell are both heading toward the end of their structural lives, and there are significant investments that need to be made to keep them relevant as residence halls. But the other half of the project deals with providing an enjoyable residence life and a stronger, more intimate community for incoming freshmen.
"Having 726 freshmen in one building isn't the best practice anymore," Haas said. "There's not a sense that the place is yours, it doesn't feel like home. We look at some of our other residences that are freshmen and about half that size; they've seen a lot of success in that 300-to-400 student range."
There are numerous locations being considered at for a new project, including a vacant lot next to the Catholic Financial Life building and across from the Al McGuire Center, Schroeder Field, the academic support facility behind Humphrey Hall and an area north of O'Donnell on Wells Street.
Haas said the feasibility study isn't a sign of any decisions to come, but is a sign of foresight by the university for projects and renovations down the road.
"There's nothing imminent," Haas said. "The university is doing the prudent thing and is trying to plan ahead. We're trying to be proactive with this and not reactive. We're well ahead of the curve here."
McMahon echoed Haas.
"We've done a lot of dreaming and looking at this," McMahon said. "But in my experience, I've learned that it takes time for these things to take off."