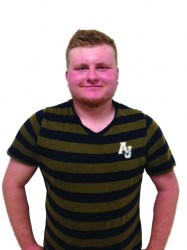 After Marquette knocked off Seton Hall at the Bradley Center Jan. 11, Buzz Williams said Jamil Wilson was "mad at him" and hoped the redshirt senior would "stay mad."
Wilson complemented junior Todd Mayo's game-high 19 points, finishing with 16 points and 11 rebounds, helping the Golden Eagles hold onto the 67-66 win over Seton Hall.
Since then, excluding a one-point performance in a blowout loss at St. John's, Wilson appears to be fulfilling his coach's wishes, averaging a steady 15.3 points per game. Wins over Butler and Seton Hall in the team's last two games finally put Marquette above .500 in Big East play, and Wilson was the centerpiece with 42 points combined.
"I thought this was the best game Jamil played here, period," Williams said after Tuesday's victory. "He was in the right mind space. I thought he was incredible defensively. He started really good, which helps our team. But I thought he was in a really good groove."
While Mayo established himself as Marquette's go-to guy in the second half, Wilson is finally developing into the consistent scoring threat fans hoped he would be. Throughout the season, the duo had plenty to say about one another and began to feed off of each other's success.
"Todd (Mayo) is spontaneous," Wilson said. "Playing with him, you kind of get used to the idea that anything can happen."
Mayo's comment after the first Seton Hall win complimented and called out Wilson.
"When Jamil's not coaching, and he's been a player, he's one of the best in the country," Mayo said. "I know he's a senior, and he wants to help (other players) all the time because of who he is, and he has a good heart, but at the end of the day you have to be a player and just come in and just play."
While Wilson seems to have heeded that advice, he's maintained his unselfish attitude and dedication towards his team's common goal.
"At the end of your playing career, they're going to judge you on a letter, not a number; whether you're a winner or a loser," Wilson said Tuesday. "We won; that's all that matters."
Davante Gardner remains a beast in the paint, but his stamina continues to be an obstacle, and his teammates struggle at times to get the ball to him. That being said, Mayo's development and Wilson's recent breakthrough are pivotal factors in the Golden Eagles' postseason chances.
With seven games to go until the Big East Tournament, fans should join Williams in hoping that Wilson stays mad and Mayo stays Mayo.