Case against Broken Yolk name rolls on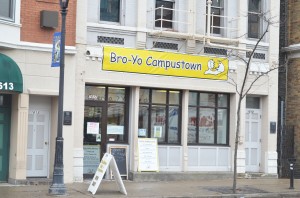 The Broken Yolk restaurant chain is still battling a potential lawsuit against The Broken Yolk Café, a California-based eatery with locations scattered around southern California.
Jim Gatto, owner of both Broken Yolks on Wisconsin Avenue and Wells Street, said he is fighting for his restaurants' naming rights.
"My rebuttal to that is I have been using The Broken Yolk and Sandwich Shoppe for 12 years," Gatto said. "The name is not the same as theirs and the logo is not the same as theirs."
Gatto has not heard much from the restaurant itself, but he said he thinks the rationale for trying to eradicate rival diners is to draw more traffic online.
"They're trying to clear up the Internet so that they're the only Broken Yolk on the Internet," Gatto said. "They could care less about two little coffee shops in Milwaukee, but on the Internet you're available to the public and they want to clean that up and be the only ones with that name."
Gatto explained that the local attorney who is representing The Broken Yolk Café said the California restaurant petitioned to trademark the name in 2008.
"At this point, my argument is you might be OK to have me change the name at Campustown because that one is only two years old," Gatto said. "But the one by the 2040 Lofts was built prior to their trademark application."
Although he is working to keep the name, Gatto said he did make a change to his restaurant located on Wells Street as a peaceful precaution. He placed a new banner atop his restaurant titled "Bro Yo Campustown." Bro Yo is commonly used as an abbreviation for the Broken Yolk, which is something Gatto said he noticed from students.
Gatto said he did not mention anything about the situation to his employees. One of those employees, Dylan Schwantes, a junior in the College of Arts & Sciences, said he was surprised when he found out about the accusation in December.
"The first time I heard about it was when I read the article in the Tribune," Schwantes said. "It wasn't brought to our attention. I talked about it with some other people who work there and we think it's ridiculous."
Schwantes said he believes The Broken Yolks in Milwaukee do not pose any threat to the California chain and said he is not too worried that he has not heard anything from Gatto.
"I take it that (Gatto) isn't extremely worried about it," Schwantes said. "When I am there, Jim is concerned about getting food ready for the hundreds of Marquette students and families that come in there. He is one of the hardest working people I have ever met. This isn't going to stop him."
In the meantime, Gatto said he is going to wait and see what happens with his restaurant, but he said he does not expect this lawsuit to come to fruition.
"I'm assuming it's going to die a slow death, but I could be wrong," Gatto said. "As of this point, it's still in litigation, and I told them I have no intention of changing it. I'm not doing anything until I'm forced to."
Leave a Comment