Bro-Yo suspends late night weekend hours due to lack of employee commitment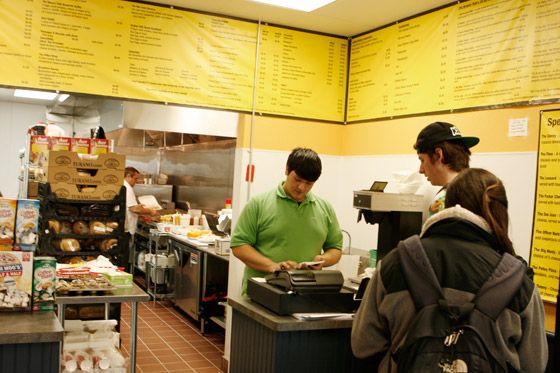 The Bro-Yo restaurant suspended its late night weekend hours as a result of being short-staffed, four months after implementing the new hours.
The extended late night weekend hours were offered from 11 p.m. to 3:30 a.m. on Thursday, Friday and Saturday in an effort to drive sales when customers were looking for some inexpensive late night food.
"We would like to reopen if we could find the right person," said Jim Gatto, owner of Bro-Yo. "The biggest issue going forward to reopening nights is commitment because there is no back up when someone can't work."
Located in the 1600 block of Wells Street, Bro-Yo is open 7 a.m. to 3 p.m, Monday through Thursday and 7 a.m. to 5 p.m. Friday through Saturday.
"I was hungry after a night out and I knew that Bro-Yo had started late night hours so my friends and I decided to go there instead of Dogg Haus but we were disappointed to see that it was closed," said Margaret Frisbie, sophomore in the College of Health Sciences, in a message.
This is not the first time Bro-Yo ran into business troubles. Last April, Gatto closed the location on 2040 W. Wisconsin Ave. due to economic hardships. That location is now home to Mendy, a Middle Eastern restaurant.
Many restaurants on Wisconsin Avenue and Wells Street stay open later to boost sales, especially on the weekends when students are out later.
"I think (Bro-Yo) could offer shorter shifts to people who work at night or offer specials at night to get students to come in," Frisbie said.
Some students said they were not aware Bro-Yo even had late night hours. Catherine Yockey, a freshman in the College of Nursing, not only wants to see the breakfast joint succeed in business, but also bring back its late night hours.
"I didn't really know they had late night hours, but now that they are stopping them I'm bummed that I can't go," Yockey said. "They would get more business if they delivered."
Gatto said he is working on appealing more to Marquette students by putting ads on Craig's List and putting a hiring sign in the window. Despite these efforts, he said it only generated a few interested applicants.
Tommy Harrington, a sophomore in the College of Arts & Sciences, said he was not surprised to hear that Bro-Yo suspended its late night weekend hours after testing it out the past few months.
"I understand the reasoning behind closing earlier since they are already open so much and they are losing money staying open later running on such few staff members," Harrington said. "They could campaign more on campus and offer special deals to attract students to their late night hours or to want to apply to work at Bro-Yo."
Leave a Comment