Men eke out clutch overtime win over Georgetown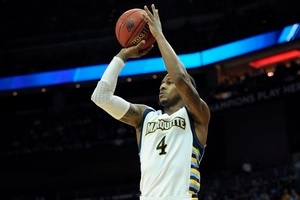 At the end of one of the ugliest games it's played all year, Marquette was sitting pretty with its biggest victory of the season at Georgetown.
Todd Mayo's clutch three-pointer capped a wild finish to the final minutes of regulation, forcing overtime and sucking the life out of the Verizon Center.
Freshman John Dawson knocked down a few huge jumpers and senior Davante Gardner hit four clinching free throws as Marquette dominated the extra period en route to an 80-72 win over the Hoyas.
After losing to Butler in overtime Saturday, coach Buzz Williams was pleased with his team's response to a similar test two nights later.
"I think God gives you the same test over and over and over until you pass it," Williams said. "I'm not trying to be a preacher, not saying I'm prophetic. You get the same test until you pass it…We passed it and there will be another test waiting on us tomorrow when we wake up."
Dawson, Gardner and three other Marquette players scored in double figures in what Williams described as one of his team's best offensive performances this season.
"I would say that's probably the most balance that we've had in a long time," Williams said. "I thought Davante was much more efficient, obviously John and Steve had their career games in regards to their production.
Up by four points with 30 seconds left in regulation, Georgetown retained possession on an overturned shot clock violation that became a jump ball. After Reggie Cameron missed the front end of a one-and-one, Gardner was fouled and knocked down two free throws to draw Marquette within two.
Markel Starks answered with two free throws, but Gardner again cut the Hoyas' lead to two with a clutch jumper. Starks made one of two free throws after a Marquette foul, setting up Mayo's heroics. Starks put up a potentially game-winning three-point attempt as time expired, but it didn't fall.
Marquette found a consistent scorer in the second half in Steve Taylor Jr. who finished with 14 to keep the Golden Eagles within reach. Dawson played 31 minutes to starter Derrick Wilson's 12, a decision Williams said stemmed from Wilson's foul trouble and Dawson's newfound offensive stroke.
"Steve's been buried for a long time," Williams said. "(He) fell out of the rotation when he was hurt, and has never gotten back into it. I thought he was huge, and John played with really good efficiency particularly for a freshman."
Taylor Jr.'s eight rebounds led Marquette to a 37-36 victory in the battle of the boards, and the Golden Eagles grinded out 17 second-chance points.
The win drew Marquette back to .500 in Big East play at an even 3-3, and Williams saw it as a response to recent struggles that could start a positive trend.
"If you take out the beatdown that Ohio State gave us early in the year, and you start chronologically going through our losses, it's been a two-possession game with five minutes to play every game," Williams said. "You can either respond to that in some point in time or just give into that."
Leave a Comment