Walk-ons making impact despite low playing time
Mache offering guidance to two newcomers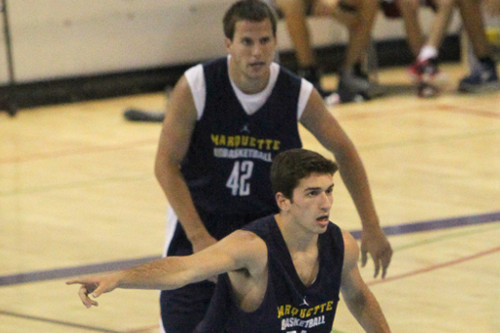 One is the team's lone senior, one is the son of a Marquette great, and the other was a late addition to add depth to the practice squad. They are the walk-ons for the men's basketball team, and though Michael Mache, Cam Marotta and Christian Haffner won't see much playing time on the court, they will actively impact the team this year.
After former Marquette players Deonte Burton and John Dawson elected to transfer to new schools last year, the Golden Eagles were left with a mere eight scholarship players on the roster.  The loss of transfer players combined with last year's injuries sometimes made even holding practice a luxury. As a result, head coach Steve Wojciechowski had to get creative, and utilize his fellow coaches as players to help run scrimmages and practices.
"God forbid we get injured again," Wojciechowski said. "Last year my coaches had to practice, so I promised them we'd have enough bodies to where they could stay on the sidelines, because their wives were getting mad at me for sending home tired coaches night after night."
To make sure his team avoids last year's problem, the team added freshmen Haffner and Marotta to join Mache, the only senior and returning walk-on player.
A Glen Ellyn, Illinois native, Mache played basketball all four years at Glenbard West High School. His prolific career included being named All-Area and All-Conference his junior and senior years, team captain senior year and finishing as Glenbard West's all-time leading scorer.
Up until last season, Mache and his twin brother Matthew were team managers for the Marquette women's basketball team, but were called up to the men's roster by Wojchiechowski before last year's BIG EAST opener against DePaul.
After a year on the team, Mache is looking forward to contributing what he can this year.
"I'm definitely trying to focus on leading the guys in any way that I can, obviously not being on the court, but leading in other ways in terms of locker room," Mache said. "(I'm) making sure we have great comradery from our team and making sure that we're all on the same page all the time."
Entering his second season on the team, Mache has fully embraced his role as a vocal sideline leader.
"He's been one of the best voices that we've had this year," Wojchiechowski said. "He's our only senior. Everybody has a chance to impact the culture positively and Michael is a great example of that."
Besides his sideline role, Mache has also helped with the underclassmen walk-ons, acting as a mentor and a role model as they begin their careers on the team.
"I really just brought them in and let them know as a group of walk-ons what is our goal, and what are we really trying to do to provide, being an attribute to the Marquette basketball team," Mache said.
With the help of Mache's leadership, as well as other members of the team, the transition from high school to playing for a division one basketball program has been successful thus far for Haffner and Marotta.
"A lot of guys have been helping me a lot," Haffner said. "Wally Ellenson's been a good friend to me, he's shot with me in the gym, Sandy Cohen's done the same thing and so has Duane (Wilson). I really look up to him quite a bit."
Haffner played basketball all four years at Gresham High School. During his senior year he was named a unanimous All-State honoree, and was named the Wisconsin Conference-10 Player of the Year. He was added to Marquette's roster this past June to add depth at shooting guard, and filled the final spot of the thirteen man roster.
"I was really excited to walk on, I came from a small town of about 500 and when I got the opportunity to do it I was so excited, and it's a dream come true for me," Haffner said.
For Haffner's fellow teammate Marotta, playing for Marquette basketball runs in the family. His father, Marc Marotta, played on the team from 1981-1984, and is still the only three-time First Team Academic All-American in school history.
When the opportunity to play for the Golden Eagles presented itself, Marotta eagerly accepted.
"I've always been a big Marquette fan growing up so when I got the opportunity from Coach Wojo I jumped on it right away," Marotta said. "It's something I wasn't going to pass up."
Much like his fellow walk-on teammates, Marotta's high school career featured numerous athletic accomplishments. Hailing from Mequon, Wisconsin, he played basketball for Homestead High School for two years, served as team co-captain and was named an honorable mention all-conference honoree.
Even as freshmen, Haffner and Marotta are aware of their roles on the team and have dutifully embraced their duties.
"Our role is encouraging the guys and making sure the energy level is high every day in practice and when we're in the weight room," Marotta said. "I think everyone's roles are different, and I think we have an important role on the team."
Leave a Comment