GOODMAN: College of Comm's failures force us to find success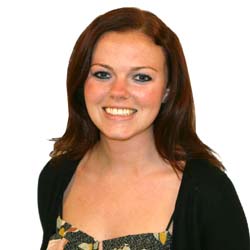 College is a time for self-discovery. It's also a time to learn – not only academically, but about oneself, others and the surrounding world. Decisions on a university, a field of study and the college that a major falls in are crucial to such an acquisition of knowledge. The curriculum, courses offered and professors who teach them can make or break a student's undergraduate academic experience.
I always found the prospect of being a journalist appealing, and I was thrilled at the possibilities of a Diederich College of Communication education on the first day of classes freshman year.
Four years later, it's a slightly different story.
The College of Communication is outstanding for many reasons. It regularly brings highly successful and inspiring communication professionals to speak on campus. Constantly evolving technology is embraced so students can compete in an ever-advancing world. Conferences geared toward professional development such as the PR + Social Media Summit are hosted annually. Johnston Hall is home to the Wakerly Technology Training Center and also serves as the roots for Marquette's amazing branches of student media.
The college has provided me with some wonderful academic experiences, as well.
A notably challenging and frustrating magazine design course served as one of the most rewarding classes I've taken at Marquette. Eye-opening courses on issues of class, race and gender result in headaches from struggling to find solutions to today's societal problems. I was humbled by a critical writing course that proved I'm not cut out for all facets of journalism. 

The College of Communication certainly has a lot to boast and be proud of, but there is also an overwhelming cry for improvement and re-evaluation.
There is a lack in variety of courses offered in many academic areas, which results in too much repetition of professors and topics. For journalism students in particular, the curriculum seems to be ever-changing, which at times causes difficulty in understanding graduation requirements. Expected feelings of intellectual stimulation when leaving a class are frequently replaced by sad sentiments that the previous hour was a slight waste of time.
Just as I've had rewarding academic experiences within the college, there have also been a fair share of terrible moments.
I've watched the same videos in different courses every semester for the past four years. I've sat in class as a professor takes 20 minutes to figure out how to use the Internet. Each semester I've tried to enroll in interesting courses listed on Checkmarq only to find out they never existed in the first place. Busy work, professors losing papers and an emphasis on tweeting well rather than writing well are abundant.
This semester, I've witnessed budget cuts and the convoluted restructuring of a student media that many argue has been the most rewarding aspect of their time in the College of Communication.
Around this time last year, I arrived for a 3:30 p.m. Friday final to discover a proctor administering the test. It turned out that the professor had unexpectedly traveled overseas, and the proctor was supposed to place the completed exams in his mailbox so they could be graded.
Perhaps I'm missing something, but placing lengthy essay exams in a Johnston Hall mailbox when the professor is overseas and final grades are due the upcoming Tuesday just doesn't quite add up.
As I prepare to graduate, I ask myself a question that has become definitive of my College of Communication experience: "Do my end of the semester course evaluations even get read?"
Despite the frustrations, I would undoubtedly choose to attend Marquette as a journalism major again. This is not a result of my College of Communication experience, though. It's due to what I've gained through courses, extracurricular involvement, a strongly developed connection to the university's Jesuit ideals and the relationships and mentors I've established outside of the college.
If I wouldn't have sought other learning experiences to fill the void that developed from my College of Communication academics, my Marquette experience might not have been as special as what it was. In fact, reaching outside of my major and the college helped make me the person I am today.
I admit that this perspective may very well seem like a graduating senior's personal rant. I'll also acknowledge that my experiences have mostly been within journalism course requirements and the typical elective options that coincide with it, and thus not necessarily reflective of every student's experience.
Although these facts may diminish my viewpoint, I wouldn't be writing such an argument if it wasn't for hearing similar rumblings, disappointments and wishes for improvement from those around me – not just journalism students, but individuals in all academic areas within the college for the past four years.
When I walk across the stage at graduation in three weeks (fingers crossed my diploma isn't mysteriously "lost" following this column), I'll be grateful for my Marquette experience in so many ways – for the people I've met, relationships I've built, experiences and opportunities I've had and the knowledge I've gained. I will be thankful for the information and skills I learned and put into practice throughout my time as a journalism major. I will stand confidently knowing that I am a better person than I was upon arriving here four years ago.
I will be most thankful, however, that my not-so-great experiences in the College of Communication pushed me to try new things, explore new interests and pursue joys and passions that I may not have otherwise discovered, and I'll hope that future students will be able to do the same.
—
Brooke Goodman is a senior studying journalism and political science. Email brooke.goodman@marquette.edu with anything you'd like to see her write about.
Leave a Comment