There is more to the Marquette women's soccer team than what the roster shows.
Twins Kendall and Chloe Roehling have been Golden Eagles for four months, despite being 9 years old.
Through Team IMPACT, an organization that pairs children with disabilities or life-threatening illnesses with college sports teams, the Roehling twins became honorary Marquette players over the summer. Born in 2015 with a rare form of restrictive cardiomyopathy, Kendall and Chloe were 13 months old when they were diagnosed with advanced-stage heart failure and needed heart transplants to survive.
"It's hard to be told that your child — let alone two of your children have a life–threatening illness, and the only way to cure it is by someone else making a life-saving decision," Kendall and Chloe's mother, Christine Roehling, said.
During the women's soccer team's media day in July, Kendall and Chloe participated in team activities, went to get lunch with the team and came up with nicknames for the players.
Even before they met, junior forward Kate Gibson said that the team had been looking forward to the opportunity to work with Team IMPACT.
"We've seen other teams here at Marquette having these awesome kids come on and be a part of their team and it was just super exciting. Even more exciting that we get two of them," Gibson said.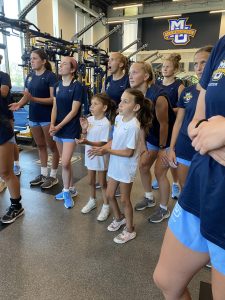 Kendall and Chloe started to go to weightlifting practices and eat occasional meals with the team in July. At games, the twins get to run onto the field with the players and were named honorary captains for one match. They stand on the sideline of the field with signs they made at home, while waiting for the Golden Eagles to run past and give them high-fives.
Though, the team gives a lot more to these girls than just high-fives.
"The influence that they have and the strength that they display has helped them understand and overcome obstacles time and time again," Christine said. "To get through tough situations every day, we'll say 'How would Molly (Keiper) or Mikki (Easter) respond?' If one of them falls down, we'll say 'Would Josie (Bieda) cry?'"
In June 2022, Kendall needed a second heart transplant. Christine said the idea of needing these operations started to affect the twins.
"Initially they didn't like the attention from being different," Christine said. "We'll still get comments every once in a while, like, 'I don't want to be a heart kid' and 'I don't want to go to the hospital and get labs because none of my friends have to do it.'"
These kids are one of the reasons why head coach Frank Pelaez said their participation in the program is so essential.
"Any chance you can use this platform to … " Pelaez said, followed with a long pause. "It sucks and it's hard because [the program] is a beautiful thing, but these are real-life things that these kids are going through. Any chance we could use this platform to put joy in somebody else's life when things are not really good health-wise, we have to do it.
"The girls embraced that but I've also told them there's gonna be some heartfelt moments too. This isn't just 'Let's sponsor a kid.' No. This is real-life stuff."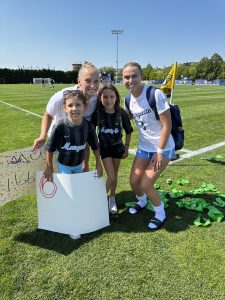 Team IMPACT connects teams to kids, but sophomore defender Erin O'Keefe said it's often the other way around.
"As much as I want them to learn from us, I feel like every time I meet up with them, I learn something new from them," O'Keefe said. "They're just so tough, and it's super important hearing their stories and what they can show us. That mental toughness, it's such an important part of a sports team."
The Golden Eagles help the kids before the match, the kids help them after, being the first people to greet them off the field. Gibson said the team can't stay mad for long after a loss because they have Kendall and Chloe's smiling faces to greet them past the fence.
Additionally, Christine said that these women on the pitch have given her girls inspiration to strive towards their goals.
"They're positive role models. They're an example of what it means to be a young woman facing adversity," Christine said. "Everybody has adversity, whether it's on the grass pitch or in a hospital room, but it's how you deal with that. Giving the girls a different perspective that adversity comes in all colors is really important. Having those positive examples of people that aren't their parents is fantastic. And we couldn't have asked for a better team."
Pelaez said that it's important to show this type of care to somebody.
"If you can make a difference in someone's life when it comes to putting happiness into it, that can change everything," Pelaez said. "It's very important that people show love to somebody."
In this situation, that goes both ways.
Through her experience, Christine started a foundation called The Beat Goes On to help other families going through the same thing they are. More information can be found here.
This story was written by Benjamin Hanson. He can be reached at [email protected] or on Twitter/X @benhansonMU.
Story continues below advertisement