Evans' Division I dreams become reality with Stimmel's squad
When Grant Evans was in the first grade, he looked out the back window of his home in Pittsburgh, Pennsylvania and saw his neighbor with a lacrosse stick, throwing a ball against a wall.
"That was before lacrosse was even big in my area at all," the graduate student face-off specialist said. "So, I went outside and talked to him and soon after he gave me my first stick. The rest is history, I fell in love with it."
Evans attended Upper Saint Clair High School, where his lacrosse skills began to flourish.
"My high school lacrosse coach, Brian Yates, always believed in me," Evans said. "He gave me a shot when I was really young and put me on the team to play varsity as a freshman."
Remaining in Pennsylvania after high school, Evans attended Grove City College. Though the school was Division III, Evans performed at a high level.
"Coming into Grove City, head coach Jernstedt had ample knowledge and background of Division I, he was at Duke and Delaware and played at Towson," Evans said. "So even at the D3 level, I was given the IQ and knowledge of how to lift, how to play, where to look."
During his final year at Grove City, Evans earned USILA Third Team All-American, PAC Defensive Player of the Year, ECAC DIII Defensive Player of the Year, All-PAC First Team, PAC tournament most outstanding player and IMCLA second team all-region.
Despite having just over 2,000 undergraduate students, the 180-acre campus of Grove City was not unknown to Marquette head coach Andrew Stimmel.
"That was the first school I coached at, the 22-year-old head coach with players as old as me or older than me, so that was fun," Stimmel said.
Stimmel transformed the team within his two seasons at Grove City. The program went from a 3-7 record in 2011 to 7-5 within Stimmel's first year at the helm. Ending the season with a 17-7 regular-season record, Stimmel produced four All-American players and established the conference's best face-off percentage.
"Through my connection with Grove City, I knew about Grant from the start. He was a pretty good face-off guy coming out of high school, then ended up at Grove City. He's been an All-American every year he was there and was a huge part of that program moving forward and having lots of success," Stimmel said. "When he was entertaining some options with his future, we (Marquette) reached out to him to see if he had any interest in us, which he did."
As for Evans, he knew he wanted to pursue a higher level of play after receiving two years of eligibility back due to COVID-19.
"Unlike Division I, D3 got 2020 and 2021 back, so when I started getting years of eligibility back, I thought about my future," Evans said. "I wanted to keep going and get a master's degree and continue playing across the highest level I could. My whole life I've always wanted to play Division I lacrosse, so it only made sense that I try to take it to the next level."
Now just over eight hours from home, Evans made the transition to Marquette, making his dreams of D1 play a reality.
"He has come in and it's almost like he's been here for four years already," senior face-off specialist Luke Williams said. "So far, he came in and has competed since day one. In my eyes, there hasn't been much of a learning curve for him."
Stimmel said Evans falls into third of the face-off pecking order, a five-player deep unit.
"They're all competitors. They all want to be out there and at the end of the day, I think Grant has done a great job of owning the role he's in right now and supporting those top two guys," Stimmel said. "Grant finds a way to push them, get better and eventually find his way into the lineup. Owning your role, regardless of how glamorous it is, it's always a challenge and Grant has embraced that and continues to work."
Evans saw time in Marquette's season and home opener on Feb. 4 against Lindenwood. He went 2-for-2 on face-offs and picked up one ground ball. Taped on his helmet and written in black Sharpie, Evans has the initials of each of his family members.
Despite the distance from home, Evans' father was able to watch him play in his first ever Division I game. In fact, it is a rare occurrence when Evans' father is not in attendance at all. So far, Evans' father is 3-for-3 of Marquette games, with plans of traveling to Naples, FL when Marquette is slated to take on the University of Michigan on Feb. 25.
"My dad made it to every college game I've ever had, except for maybe one or two. It's almost rare to be in a case where your family and parents do whatever it takes so you can pursue a dream," Evans said. "That's something I'll be forever grateful for."
Evans' dreams are finally becoming reality, and Stimmel said that his attitude is a big part of why he has earned his spot on the team.
"He's someone that regardless of the circumstances, he's coming in with a smile on his face and he's ready to compete. He's very grateful for this opportunity and I think anytime an athlete takes a D3 or D2 path in a sport, and then to receive an opportunity to go Division I, that is a goal for a lot of people," Stimmel said. "Grant always had that ability in him, so to come here and compete at this level, that's exactly what he's proving."
This story was written by Ava Mares. She can be reached via email at [email protected] or on Twitter @avamaresMU.
Leave a Comment
About the Contributor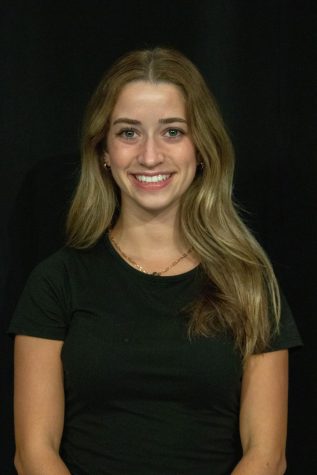 Ava Mares, Assistant Sports Editor
Ava is an Assistant Sports Editor at the Wire. She is a junior from Andover, MN studying journalism and minoring in pre-law.

In her free time, Ava enjoys...