PATEL: FINA adjusts competition policy for transgender individuals
Every year, the NCAA Woman of the Year Award recognizes women athletes for these important aspects of their lives: academics, athletics, service and leadership throughout their college careers.
This past year's winner was Lia Thomas, a Division I swimmer from the University of Pennsylvania. While she exuded every aspect of a winner in the category, there was one part of her that many people did not agree with: She was transgender, assigned male at birth.  
Lia Thomas first came out as transgender to her family in the summer of 2018 after her freshman year of college. Toward the end of her sophomore year, she began hormone treatment. During her junior year, she officially came out as transgender to her coach and teammates. For the first three years of college, Lia competed on the men's swimming team, but following her senior year, she was on the women's team. 
While on the men's team, she managed to win awards and various records and placed among the national top 100 her first year. She ranked 554th in the 200 freestyle, 65th in the 500 freestyle and 32nd in the 1650 freestyle during her sophomore year. When she competed as a transitioned female, those ranks would were fifth in the 200 freestyle, first in the 500 freestyle and eighth in the 1650 freestyle. 
Thomas had to report levels of testosterone throughout her training to qualify for competition in the female category. After starting her hormone replacement therapy, Thomas' testosterone levels would decrease and therefore she would lose muscle and strength. As a result, her swim times would increase.
Testosterone is a hormone that biological males have an increase of. It causes puberty and changes in males. When males transition to females, as Thomas did, they take hormones to suppress testosterone and will experience physiologic changes including loss of male puberty characteristics. 
Despite Thomas meeting all the guidelines the NCAA had required of her to compete as a transgender woman, she was still met with a lot of backlash, especially when she was nominated for the NCAA Woman of the Year. People took to social media to make offensive and transphobic statements about Thomas.
Some of her teammates were also affected by this nomination as well. A female teammate of Thomas' attacked the University of Pennsylvania for allowing Thomas to compete stating that it was "unfair" and how Thomas had the advantage. 
What people fail to recognize is Thomas' talent rather than her gender. She had placed in the top 100 when she competed in both the male and female competitions.
After this controversy, FINA, the International Swimming Federation, voted to ban transgender women from participating in women's swimming competitions after a 71.5% approval. In order to be eligible to compete, the women must show that that they didn't go through male puberty by the age of 12 or beyond Tanner Stage 2, a scaling system to measure stages of puberty.  
To truly respect transgender athletes and their talents, competitions need to stop separating competitions by just male and female genders. A better option is to have two separate transgender competitions — one for male to female transgender people and the other for female to male transgender people.
In total, there would be four separate competitions, but this would overall ensure that transgender people get the chance to compete and display their talent with similar people with the same strength. 
Despite all of this controversy, it was Thomas' talent that ultimately got overlooked. Had she not been transgender, people would've focused more on her talent as a swimmer.
Thomas does not deserve the hate she received for competing.
Most of these were geared towards her identity and talent and it was ultimately the choice of the committee to let her compete and not Thomas. While there need to be more competition categories, Thomas serves as an example to transgender athletes everywhere wanting to compete professionally and not have their identity as a disadvantage but as an inspiration. 
The committee needs to do better and let athletes express their gender identity instead of forcing them to compete in a gender category in which they no longer identify with. It is disrespectful and doesn't draw enough focus to their talent.
Imagine not being able to compete because of how you express yourself. The problem is with the correct competition category and not gender identification. Not being able to compete because of your pronouns is talent wasted. 
This story was written by Krisha Patel. She can be reached at [email protected]
Leave a Comment
About the Writer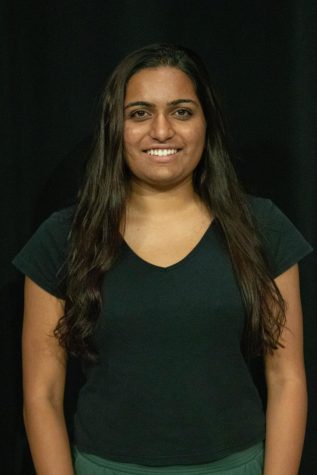 Krisha Patel, Opinions Columnist
Krisha is an Opinions Columnist at the Wire. She is a senior from Elk Grove Village, IL studying nursing and minoring in Spanish.

A fun fact about Krisha...