CADY: Indigenous people deserve better
If we choose not to recognize that this country was built on the backs and at the expense of the blood of Indigenous people, we choose to ignore the truth and leave ourselves at risk of living in a false reality. 
Oct. 12 is now recognized by many as Indigenous Peoples Day. A day spent acknowledging the truth, celebrating the Indigenous community and pretending that one day of dedication scrubs clean years of perpetual abuse.
We are so quick to denounce the horrific acts of the Holocaust, Armenian genocides and other horrific slayings that have occurred in our world – and we should. Yet, collectively as a society we still seem to have an issue acknowledging what took place on our soil under the thumb of white supremacist leaders. 
During the American War of Independence, Second War of Independence and Civil War, American leaders aimed to transform their "new world" adjunct to European colonialism and expand their power. This led to thousands of attacks on Native American tribes that left countless soldiers, chiefs and civilians brutally murdered. This cleared the path for these new American leaders to have more land, control and security. 
All of this is at the expense of precious lives, ones that could never be brought back. Even today, we do not acknowledge and amend these Indigenous peoples' history to the fullest extent.
Last year, at the height of the media frenzy surrounding the Gabby Petito murder investigation, there was also attention called to the fact that there were many unsolved cases of missing and murdered Indigenous women in the same area as Petito – yet, they were hardly spoken of. 
To be more specific, there were 710 missing Indigenous people who went missing near the area of Wyoming where Petito was last seen before her death. However, researchers found that state and local media covered only 18% of the cases of missing and murdered Indigenous women between the years 2000 and 2019.
With advancements in diverse and inclusive coverage on many minority groups and people of color, media coverage needs to continue to make strides to speak about Indigenous peoples' issues proportionately. 
Newsrooms are not the only battleground, we see classrooms as a host of misinformation and characterized by a lack of consideration for Indigenous people as well. 
Critical race theory has found itself at the center of heated debate between conservative and liberal ideologists – particularly because it would be implemented into the school curriculum. The concept itself can be defined as this: "the core idea that race is a social construct, and that racism is not merely the product of individual bias or prejudice, but also something embedded in legal systems and policies."
More broadly, critical race theory would cover ground on events that took place in American history and have shaped our country for what they really were rather than a romanticized version that makes our country's history look a bit rosier. 
What some citizens and parents may view as harmful or even created to make white kids feel bad about themselves is really no more complex than the truth. It is the truth and children deserve to grow in an education system and a world that does not lie to them. 
For example, critical race theory would address the underlying causes of poverty rather than simply telling students that there are different socioeconomic classes in the world with little to no explanation. 
It would explain issues to them such as the fact that in the 1930s, government officials drew mapped lines around geographical areas deemed as poor financial risks – which often was due to the association of poverty and people of color. Banks would refuse mortgages to these people of color living in these areas and even now we still see those patterns alive and well. 
Indigenous people could also experience justice in the classroom by learning that Christopher Columbus who sailed the ocean blue was not a heroic figure who came to America on a charming boat and made it his home – but rather a murderer and a white supremacist. 
Critical race theory is not merely a good idea – it is a necessity. A necessity for fair and honest education. 
At Marquette University, Indigenous students have an opportunity for connection and community within an organization called "Auntie's Circle." This is made up of a group of Indigenous women who have "taken an active role in building community and support for Indigenous students at Marquette." They even have a podcast called "Our Roots Say That We're Sisters." 
The Indigenous community deserves more than a day, more than a promise for change and more than a gloss-over. Members of the media, voters, administrative bodies in the education system and society, in general, must step up to care for Indigenous people around us. 
This story was written by Grace Cady. She can be reached at [email protected]
Leave a Comment
About the Writer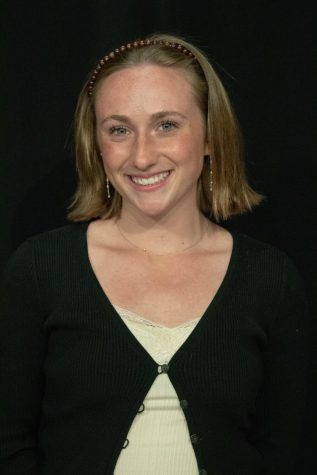 Grace Cady, Executive Opinions Editor
Grace is the Executive Opinions Editor for Fall 2022 the Wire. She is a junior from Delafield, WI studying journalism and minoring in political science.

In...