CADY: U.S. women's soccer team achieves long awaited victory
This story is part of a series called "Empowering Women" that focuses on women's issues for International Women's Day. 
Women should not have to work so hard to be seen as equal.
Feb. 22 marked the day of a big win for women in soccer. The U.S. Women's National Soccer Team finally reached a settlement in their class action equal pay lawsuit against the U.S. Soccer Federation. This brings well deserved closure to a longstanding issue over equal pay claims in litigation pending since March 2019.
Both parties issued a joint statement following the settlement: "We are pleased to announce that, contingent on the negotiation of a new collective bargaining agreement, we will have resolved our longstanding dispute over equal pay and proudly stand together in a shared commitment to advancing equality in soccer."
The U.S. Soccer Federation will pay a total amount of $22 million to the players — an additional $2 million will be put into a fund for the players' post-career goals and charitable events. The U.S. Soccer Federation has also stated that it will provide equal pay to both men's and women's senior teams in all future tournaments, including the World Cup which will begin Nov. 21 of this year.
This is a great success for women's soccer and a step in the right direction for women all over the world, showing them that when they fight for what they want they can achieve a lot. But, they shouldn't need to fight so hard. Unequal pay in soccer is far from an isolated incident — it happens all across the board in professional sports and anything different is considered monumental.
One of the few sports that has committed itself to equal pay between men and women in major tournaments is tennis. The reason that this happened was because of a woman.
Billie Jean King, recognized as one of the greatest women's tennis players of all time, won the U.S. Open in 1972 and was awarded $10,000 – Ilie Nastase, victor on the men's side, was awarded $25,000. 
After this, King lobbied and threatened to boycott. As a result to her protests, one year later the U.S. Open became the first grand slam to offer equal prize money between men and women. It then took 35 more years for the rest of the major tournaments to follow suit. The Grand Slam tennis tournaments include the U.S. Open, Australian Open, French Open and Wimbledon tournaments.
King had to be the best, she had to win the tournament and then threaten to boycott in order to fight for her right to be paid equally.
There is also still an overall gender pay gap in America.
Women today are still only making 82 cents for every dollar that a man makes. Even more so, women of color are making less than that 82 cents per dollar so the pay discrepancy between men and women of color is more significant. There is no rhyme, reason nor excuse for the wage gap to still exist. With the progression being made for women's civil and human rights, pay needs to catch up. Women in sports already need to work significantly harder just to be respected by their fellow male athletes, sports reporters and society in general. They shouldn't have to wage a war on organizations to be paid fairly as well.
A common argument that perpetuates the narrative that female athletes are not being paid as much is because they are not drawing in as much of a crowd. Yet, there is never a solution given to this issue. Instead of leaving the matter at that and moving on, we as a society should be uplifting women in sports, encouraging others to attend their events and raising awareness to the issue.
Women in general deserve better. They are strong, hard working and they shouldn't have to continuously go the extra mile just to be given tangible, equal rights. Equal pay for women in sports, and everywhere, need to make more progress.
This story was written by Grace Cady. She can be reached at [email protected]
Leave a Comment
About the Contributor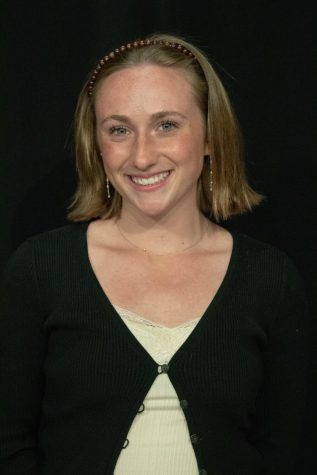 Grace Cady, Executive Opinions Editor
Grace is the Executive Opinions Editor for Fall 2022 the Wire. She is a junior from Delafield, WI studying journalism and minoring in political science.

In...