BEG: Equal pay doesn't bring equality for entire gender
April 10, or Equal Pay Day, was created for Americans to reflect on the discrepancy between the working wages of men and women. April 10 was chosen in particular because it is the amount of extra time women must work to receive equal to their white male counterparts' earnings from the last year.
What often flies under the radar, though, are the many other equal pay days throughout the year. Aug. 7 marks Black Women Equal Pay Day. Sept. 7 is when Native American women reach equal pay, and finally, Latina women get their day Nov. 1. Similar to April 10, these days are picked specifically to show how much longer these women must work than, not just white men, but also white women to get the same pay.
There is a large disparity, not just across gender lines, but racial ones, as well. Women of color, who make up 40 percent of the American population, are falling so far behind white women. This information cannot be overlooked.
Women cannot all be placed and grouped into one category, because women of color need a different approach, specific to the issues they face.
Though white women may not be in the best situation, they must recognize their privilege in comparison to those who might not have the same benefits they do.
White feminism solely focuses on the struggles of white women, while ignoring the difficulties and oppression of women of color. This type of feminism is a problem in this country, and was prominent during the 2016 election. 53 percent of white women voted for Trump, which showed their true lack of concern for the anti-immigrant, anti-Muslim and racist rhetoric he spewed during his campaign. They placed their racial and economic identities above their gender.
These straight, middle class women will not face consequences and hardships of the political choice to have a racist predator as the president in the same way as other women because they are white.
Lack of concern for women of color is an integral part of our country's foundation. The fight for women rights in the 19th century through the works of Elizabeth Cady Stanton and other white women had no intention to include African American women.
Nowhere in the Declaration of Rights and Sentiments were black women addressed, and, even beyond that, white women intentionally did not allow them to join their organizations.
Women of color cannot continue to be left out of this conversation. Every woman must be able to benefit equally from the feminist movement. Feminism must take into account how racial and gender inequality problems.
There are many issues that specifically address black women, Native Americans, Latinas and any woman who is not white, but white feminism willfully ignores this. The experiences of sexual harassment and violence these women endure are often pushed to the side because whiteness is the norm no matter what movement.
Lena Dunham, a self-proclaimed feminist, completely disregarded a sexual assault accusation made against her colleague, Murray Miller. Dunham said she was positive that the accusation was categorized under the 3 percent of false reported accusations. The woman who made the accusation, Aurora Perrineau, is a woman of color.
A wealthy white woman felt comfortable completely omitting a lower-income woman of color's claim because of white feminism. As long as Dunham ensures she and her white women colleagues receive rights, she has no regard for women with problems different than her own.
Of course, progress has been made, but there is much to be done. By placing the stories of women of color at the forefront next to their white peers, it is a step towards presenting them with the same importance.
More women of color in the entertainment industry must be allowed the same opportunities as white women because representation matters immensely. White women marching in the streets of Washington and wearing pink hats must guarantee they are not only fighting for their rights, but the rights of their entire gender.
About the Writer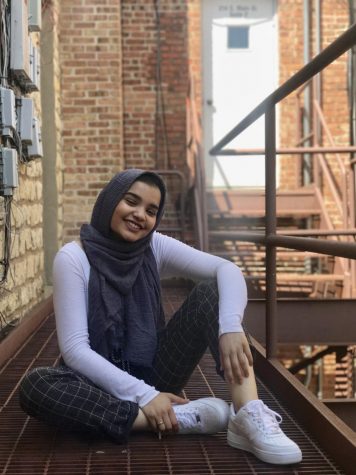 Aminah Beg,
Aminah Beg is the assistant opinions editor for the Marquette Wire. She is a sophomore from Naperville, Illinois who is majoring in Public Relations and...