EDITORIAL: MUPD must do better, promptly inform campus
Marquette University Police Department has a responsibility to promptly inform the Marquette community of incidents on campus, regardless of their threat status. 
A Milwaukee Police Department officer who responded to a welfare check of an individual sitting in a car at 21st Street and St. Paul Avenue was shot during the evening of Jan. 27. 
The officer and the suspect exchanged fire. Then the suspect stole the officer's car, drove it and crashed it into another vehicle on 17th Street and Clybourn Avenue. The suspect fled the scene, but was taken into custody by MPD on 17th Street and Wisconsin Avenue near McCabe Hall, Humphrey Hall and The Commons, where many Marquette students live.
Many MPD and MUPD vehicles lined up on 17th Street near these buildings, red and blue lights flashed and caution tape was strung up. 
Students were alarmed and panicked as they looked out of their residence hall and apartment windows. With no information from MUPD, students were left to speculate about what was happening and potentially spread misinformation to other students. Many sent text messages to their friends and peers trying to figure out if it was safe to go outside.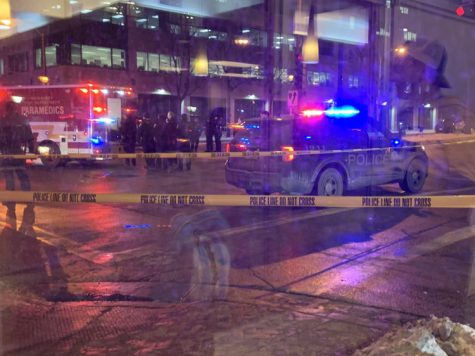 MUPD did not send out any information to students at the beginning of this time. 
Police officers were dispatched around 6:30 p.m. and arrived on the scene before 7 p.m. However, the first communication from MUPD was a safety alert at 7 p.m. Jan. 27 that said, "Situation stabilized, No threat to campus."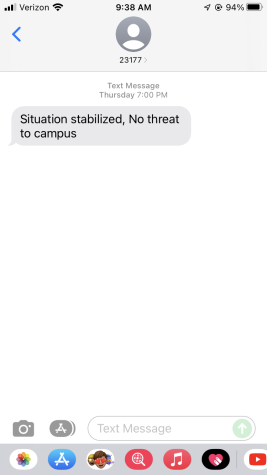 There was no information about the "situation," leaving students and parents who have opted into safety alerts confused about what situation had been stabilized. 
One student said they saw someone getting put into an ambulance; another student said they saw someone carrying an assault rifle. 
Not providing adequate and timely information can create just as much panic as keeping students informed if there was an active threat to campus.  
The next MUPD alert was sent at 7:16 p.m.: "MUPD assisting MPD. No active threat to campus. Stay away from police investigation west of 16th Street."
The third MUPD alert was sent at 8:29 p.m.: "Continued police presence on campus due to MPD investigation of non-MU incident. Situation is stable and no active threat to campus." 
If MUPD would have sent out this information when they first arrived on the scene, students could have been put at ease and not left wondering about the safety of their friends and themselves. 
Students deserve to know what is happening on campus, even if there is not an active threat. When people see over a dozen police vehicles and caution tape, it is not unreasonable for them to think there is a threat on campus. MUPD could have easily said that they were assessing a situation when they arrived on the scene. 
Marquette University Police Chief Edith Hudson released a statement Jan. 28 to discuss the situation that happened Thursday night. 
Hudson assured the Marquette community that there was no active threat to campus, and that MUPD was assisting MPD with an investigation of the shooting. 
"During an active investigation, ensuring the safety of our community and the accuracy of information is critical," Hudson said in the statement. "We communicated as soon as we could through social media and text that there was no threat to campus and that we were assisting MPD." 
Later in the statement, Hudson advised students, faculty and staff to opt into text messaging safety alerts, download the Eagle Eye app and follow the MUPD Twitter account for updates. 
The statement said that MUPD posts updates on Twitter "in real time." However, the tweet had the same message verbatim as the safety alert and was sent out on Twitter at the same time as the text message at 7 p.m. 
MUPD needs to consider how students are feeling, and not leave them in the dark. Instead, they should be proactive rather than reactive with their communication. 
Additionally, failing to be transparent can cause parents to panic. With no information and many not being near Marquette, parents don't have insight into what's happening on campus and they will likely worry about the safety of their children.
MUPD's lack of transparency has been an ongoing issue. 
MUPD sent a safety email March 14, 2021 about a male individual who was threatening and striking women in the Marquette area. 
The March 14 message was the first direct communication with the Marquette community, despite the individual engaging in more than one violent incident on campus prior to the MUPD safety email; the individual was also seen in Mashuda Hall the week before where he threw a water bottle at a desk receptionist. 
MUPD also failed to provide timely information Feb. 16, 2020 when a bullet entered a study room of Wells Street Hall in The Commons. A safety alert was sent to students nearly 40 minutes after the incident, merely saying that shots were fired near North 17th Street and West Highland Avenue. MUPD did not say a residence hall had been affected until nearly an hour and a half later. 
Another incident occurred October 2019 when MUPD and Marquette failed to provide information about a Marquette student who was missing for five days. 
Although the university said the incident was a family matter and wasn't supposed to be public, the missing student's friends did not keep the incident private, so MUPD should have communicated with the Marquette community to seek involvement in locating him. 
MUPD needs to reassess what they deem necessary to share with students. Failing to provide information in a timely manner is putting the safety of campus at risk, not protecting it. 
---
Editorial topics by the Marquette Wire are decided at weekly meetings between members of the executive board. The editorial is crafted with leadership by the executive opinions editor. The executive board consists of the executive director of the Wire, managing editor of the Marquette Tribune, managing editor of the Marquette Journal, general manager of MUTV, general manager of MUR and ten additional top editors across the organization.
Leave a Comment