Marotta plans on taking the No. 52 to new heights
Marquette women's basketball redshirt junior forward Chloe Marotta didn't have to leave her home state to continue playing the sport she loves at the collegiate level. In fact, Milwaukee's Jesuit University is roughly a 25 minute car ride up I-43 to her hometown of Mequon.
Now in her fourth season with the Golden Eagles, Marotta is lacing up her Jordan's and set to begin a new season on the Al McGuire Center court.
"I am really excited to get started and get playing," Marotta said. "Looking forward to get out there with my team and show everyone what we've been working on."
Marotta, who's teammates refer to her as "Miss Marquette," said she is excited to have fans back in the stands, especially those that have followed her basketball journey from the start.
"These past four years, being able to play in-front of a crowd that I've known for a really long time, has been awesome," Marotta said. "It's always an honor to see them in the stands. The fact that we can have those people back in the stands this year and show them what college basketball is like, how we play together as a team, that is the big thing."
Assistant coach Justine Raterman said she has seen Marotta grow within the program over the two seasons they have been together.
"Chloe is a person that is ready to help and do whatever she needs to do. Every team needs somebody like that," Raterman said. "Chloe does a little bit of everything for us and I think that is so important for what we are trying to do as a team, especially this year."
Head coach Megan Duffy said Marotta's role on the team heading into this season is simple.
"She (Marotta) has always been that kind-of utility player in my eyes," Duffy said. "The only difference about her is that she is another year older and has more game experience. Historically we've been able to move her from the guard position back to the forward position and it will be no different this year."
Marotta said how much pride she takes in her role on the team, noting that even the most versatile players have to be consistent in their game.
"I'm a hard worker who likes to get rebounds a lot and dive for the ball and do all the little things, but I think this year is really about expanding that," Marotta said. "Doing the little things, but also providing for my teammates, such as getting Karissa (McLaughlin) a good assist to knock down shots or Jordan (King) off the ball too, just opening it up for my teammates."
Raterman, who defines Marotta as an energy person with a competitive side, said the 6-foot-1 forward has already stepped into a greater leadership role and is surpassing all expectations.
"Chloe has worked really hard on her perimeter game. Whether it's a drill, fighting over a rebound, or an actual game, she is going to compete for every single possession," Raterman said. "She has been here a long time and is somebody, that as coaches, we rely on to understand our message and trickle that down to our younger players."
Redshirt first-year forward Liza Karlen said she views Marotta as not only a program leader but also a personal role model. Karlen praised Marotta for her rare work-ethic and positive attitude.
"She comes in and gives it her all. She is positive and always working hard. She is the reminder of Marquette values and what Marquette stands for," stated Karlen.
The extent of Marotta's impact also reaches into life away from court. For Karlen, Marotta made her impact on the young player before the two even played a game together.  
"Coming in freshman year, we were here for only about four days in July, then we got sent home because of COVID," Karlen said.
Karlen continued to share how Marotta opened up her home to her, allowing Karlen to stay with the Marotta family during the summer months, where the teammates got lots of summer ball training in.
"This was all when I first met her, so that speaks a lot about Chloe's values and the type of teammate she is," Karlen said.
Karlen shared how Marotta opened her home to her, allowing Karlen to stay with the Marotta family during the summer months, where the teammates got lots of summer ball training in.
As for the entire team, Marotta credits her ambition as a direct result of teammate chemistry.
"The bond is awesome," Marotta said. "We are always with each other and we love to be with each other. A lot of teams maybe don't want to see each other after practice or they get sick of each other, but not us. Creating that bond off the court helps us with our bond on the court too. We truly love each other."
Aside from her close knit bond and love for her teammates, Marotta's love for wearing the blue and gold and No. 52 each game runs deeper than eyes can see which makes this season extra special.
"Honestly, I am most proud of wearing Marquette on my chest. Obviously, this school is amazing, but I am just so proud to be in this jersey, wear the number 52 and represent Marquette University," Marotta said. "My dad was number 52 when he played here and my brother was 52, and now I'm 52."
This article was written by Ava Mares. She can be reached at [email protected] or on Twitter @avamaresMU.
Leave a Comment
About the Contributor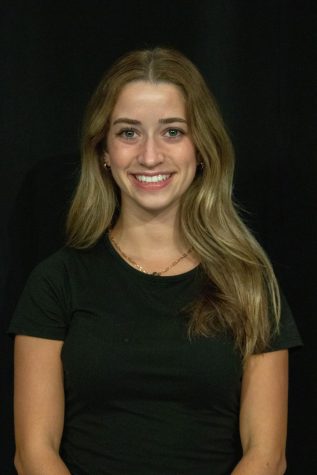 Ava Mares, Assistant Sports Editor
Ava is an Assistant Sports Editor at the Wire. She is a junior from Andover, MN studying journalism and minoring in pre-law.

In her free time, Ava enjoys...