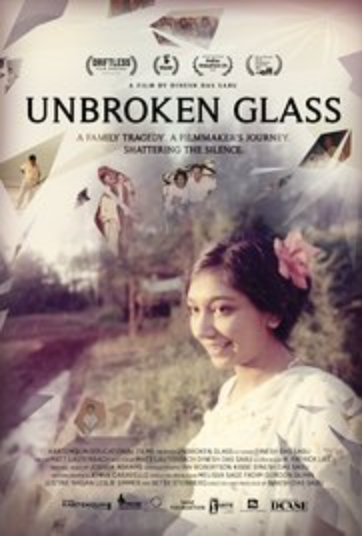 Dinesh Sabu, an assistant professor of digital media, produced a documentary film titled "Unbroken Glass," which was featured in the Minority Health Film Festival this past Sept. 10-24. The film unleashed vulnerable parts of his past, and portrayed himself coming to terms with a family history of mental illness and trauma. 
Sabu said he began working on the feature-length documentary in 2009, and it had its first premiere in 2016.
"The fact that it took seven years to make is actually kind of useful," Sabu said. "In the first scene, I am 24 years old and I'm around 30 or so now. … You kind of see me grow up in the film just from those years accumulating."
Throughout the documentary, we get to watch Sabu grow up. He said he became an orphan at the age of six, after his father passed away from stomach cancer and his mother committed suicide after being diagnosed with schizophrenia.
"I made it to adulthood not really knowing who my parents were," Sabu said. "My older sister raised me and my brothers. The film started out as an excuse to have these really uncomfortable conversations about some really painful issues."
Sabu said he is the youngest of five siblings, and his eldest sister is 16 years older than him.
Although he knew his mother had suffered from schizophrenia, and that she died by suicide, Sabu said it was hard to acknowledge at such a young age.
"The film kind of morphed into a way for me to learn about my parents, but also come to terms with this trauma, both in the general public, but particularly in the Asian American community and the South Asian community," Sabu said. "Mental illness and generational trauma are really, really big issues and there's a really huge stigma and silence around mental illness."
He said the fact that this was such a personal film made it more challenging than anything else, but it was a profound act of disclosure for not only himself but his family as well.
"It was really coming out and speaking very openly and honestly about suicide, schizophrenia, depression, childhood trauma, domestic violence," Sabu said. "All of these issues are very open in the film and I'm not going to lie, I was pretty nervous about this being made public."
Sabu said that while these anxieties never really go away, there have been rewarding parts to creating this film as well, such as visiting India for his cousin's wedding, seeing new places and having difficult conversations with people that he would not have had a chance to meet otherwise.
"In hindsight actually, there was also a kind of liberating quality to it," Sabu said. "When I turned it into a story that I could just share with the world, I could kind of just let it go and it belongs to the world of documentary now, as cheesy as that sounds."
Sabu said his favorite scene was his sister's wedding. In the very last shot, he said there is a photo of his nephew, who was a newborn at the time. Sabu said this ending was meaningful because 
"Just seeing the end and thinking about the perseverance of time, and how, yes, there are these very unfortunate, traumatic things that have happened in my family's past — and everyone's past really — yet we continue," Sabu said. "My sister started this family even with the baggage of all of this stuff. I couldn't have thought of a better way to end such a potentially really heavy, very depressing topic."
The film has been screened at about 10 film festivals, broadcasted on PBS twice and was available for online streaming for tens of thousands of people. Sabu has also traveled to and shared his work with various colleges and universities, communities, mental health organizations and Asian and South Asian groups.
Regardless of the quantity of people who have seen his film, Sabu said he really loved traveling along with his work and having meaningful conversations throughout various communities around the world.
"It's always really wonderful when your work finds an audience, and you can see it resonate with people," Sabu said. "To be able to have conversations that you wanted to have by making the work, to see that through, is just an incredibly rewarding feeling."
Sabu said he does not usually publicize his film, so he is not sure how many Marquette students or faculty have actually seen the film.
While it is no longer showing in Milwaukee at this time, the trailer can be viewed here.
This story was written by Skyler Chun. She can be reached at [email protected].
Story continues below advertisement