A No Policy Anthem
The sports world shifts on Aug. 26, 2016 — a shift that inevitably changes the conversations surrounding the national anthem.
In an NFL preseason game, San Francisco 49ers quarterback Colin Kaepernick sits on the bench during the national anthem, protesting racial inequality in the United States.
In the next preseason game, Kaepernick goes farther and kneels during the anthem alongside teammate Eric Reid.
Multiple professional players join the movement, raising fists and kneeling to show a stance against social injustice.
It isn't until Sept. 2017 that the protests reach their peak.
President Donald Trump tweets, "If a player wants the privilege of making millions of dollars in the NFL, or other leagues, he or she should not be allowed to disrespect. …. Our Great American Flag (or Country) and should stand for the National Anthem. If not, YOU'RE FIRED. Find something else to do!"
Kaepernick currently does not play in the NFL as he opted out of his contract that would have kept him playing with the 49ers through 2020. He also has put a grievance file, a formal complaint, towards the NFL and its 32 teams for collusion.
With the 2020 Summer Olympics on the horizon, the International Olympic Committee publishes guidelines for athletes in the events to consider their political gestures.
The IOC bans athletes from making political, religious and ethnic demonstrations, including kneeling during a national anthem, displaying political messages and refusing to respect fellow medalists. Athletes are allowed to express views in interviews and social media, just not on Olympic playing surfaces or in the Village, the athletes living community during the games.
Even though it may seem like a common occurrence in professional sports, noticeable protests have yet to occur in college athletics.
The BIG EAST Conference does not have a policy or rules in place regarding the national anthem.
"We do not have a policy, firm stance or a requirement that forces anyone to participate in that or not, and I am not sure if we ever had an issue with it," BIG EAST deputy commissioner and chief operating officer Vince Nicastro says. "We just felt at the end of the day, it was best left up to each of the individual schools." 
Marquette athletic director Bill Scholl affirms Marquette also does not have a policy in place.
"We do not have a policy that would prohibit that from happening," Scholl says. "We are not going to tell (athletes) that (they) can't do things, but we are going to make sure (the players) know there will be consequences of doing it." 
Scholl notes these consequences might not necessarily come from Marquette Athletics personnel, but more from media and fans.
"As a student-athlete, you have to understand that what you do will be seen and perceived differently by a whole lot of people," Scholl says.
Even though there is no policy in place, Marquette volleyball head coach Ryan Theis says there is an understanding of how athletes and administrators should handle this manner.
"(There is) an understanding that if there are things that they believed in and wanted to talk through (and) discuss and give their efforts, it is something we would work on together."
Nicastro says the BIG EAST does have a protocol for pregame procedures that all teams must follow. The protocol entails listing what time the anthem is played, where the teams line up for it and that teams must shake hands before going back to their benches.
Both Nicastro and Scholl say this topic has not come up recently in meetings with conference officials and athletic directors.
"It certainly came up, after when Colin Kaepernick did that, at our next AD's meeting we had a little bit of a conversation of 'what are you guys doing, what do you think', " Scholl says. "But I am not sure if we had a conversation since. … Of all the things we need to cover in our meeting, that hasn't been a high priority." 
Miguel Melchor, a sophomore in the College of Engineering and a member of the Marquette Club Baseball team, says he has no problem if a college athlete wants to protest the national anthem.
"It's freedom of speech. As long as it's peaceful, I don't see an issue with it at all," Melchor says. "If a Marquette player did it, I personally have no issue with it, they have their reasons to do it."
Jeremy DelValle, a junior in the College of Business Administration and member of the Marquette Club Baseball team, says the whole point of a protest is to bring awareness to an issue.
"People do much worse things, are suspended a handful of games and then they are back playing," DelValle says. "If they aren't proud of something in the country, why force them to stand when they don't respect it deep down anyway?"
Chris DeLeo, a sophomore in the College of Business Administration, believes it is disrespectful to protest during the anthem.
"There is a time and place for everything, but when it comes to the national anthem before a sports event, I think it is disrespectful for athletes to protest because (the anthem) is showing a sign of virtue to the sacrifices all those veterans made for this country," Deleo remarks.
Scholl says if one of Marquette's student-athletes felt the need to do something during the anthem, the Athletic Department would handle it accordingly.
"If it is before he/she has done anything, (sports information director) Scott (Kuykendall) and I … would sit and say, 'tell us what you want to do and then we will give you some thoughts to think about before we do it,'" Scholl says. "If it is after the fact, we would have to work to coach that person through media requests or whatever it may be happening on social media."
Five student athletes were asked to be interviewed for this story. All five students, involved in Marquette men's basketball, Marquette women's basketball, men's lacrosse and women's soccer, were not available to comment.
This story was written by John Leuzzi. He can be reached at [email protected] or on Twitter @JohnLeuzziMU. 
Leave a Comment
About the Contributor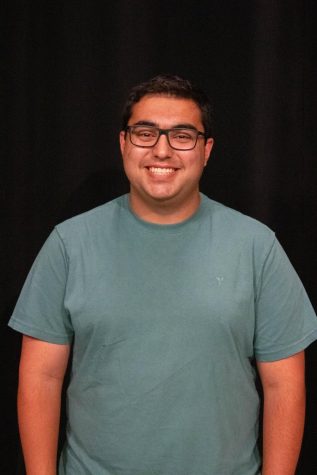 John Leuzzi, Executive Sports Editor
John Leuzzi is the Executive Sports Editor for the Marquette Wire. He is a senior from Mount Laurel, New Jersey, majoring in journalism and minoring in...