BEG: Iowa caucus sets interfaith inclusivity example for Marquette
Islamophobia, or prejudice against Muslims and the Islamic faith, is a global and historical phenomenon that affects the way Muslims choose to carry out certain activities. One of these activities is voting.
Voting is a political right that should be granted to each citizen and made easy and accessible. However, casting a ballot is harder for minorities, especially those who experience hatred and discrimination by the country majority. Muslims make up just one group of Americans who feel uneasy and uncomfortable when voting in their district by the fear of facing hatred by others.
Mohamed Ali, a volunteer on the Bernie Sanders campaign, explained his observations regarding this problem for Muslims during the 2016 election year in an interview with news channel Al Jazeera. He said it was hard for Muslims in his community around the Des Moines, Iowa region to take part in the state's caucuses.
"They just did not have the confidence or felt uncomfortable," said Ali, a Palestinian American real estate agent in Des Moines.
This year during the Iowa caucus, there was large increase in Muslim American participation. Ali believes this is because the Democratic Party of Iowa agreed to hold caucuses in five mosques around the state for the first time ever Feb. 3.
This is "historical," as state Rep. Ako Abdul-Samad, the only Muslim legislator in Iowa, said. It encourages American minorities who would not have been motivated or encouraged before to vote and get their voices heard in the political system.
It was an inclusive move not just for Muslims in Iowa but for Muslims across the United States. When Muslims see that a political party is taking action to include their communities and make this political right accessible to them, it will encourage the multiple Islamic communities across the country to follow in Iowa's footsteps.
During a time of high turmoil and hatred against Muslims in the United States due to the state of Islamophobia, a "safe place that is inclusive" will make great strides in the way Islamic communities feel about this country, co-chair of the Muslim Caucus of America Rummi Khan said according to Al Jazeera.
A number of Trump's actions as president, such as the Muslim Ban, have made Muslims feel targeted. It is only right that Muslims have the same availability and comfort while voting as their white counterparts when the politics of this country directly affect their families, communities and entire religion.
This action taken by the Democratic Party of Iowa is one that must be spread across all upcoming primaries in the country. America has a history of making voting very difficult for minority groups, thus not permitting their votes to make an impact on the political results. Caucuses and primaries must take their site directly to the communities and areas where minorities feel the most comfortable to ensure they have the chance to vote easily.
The party members must educate themselves on communal places that are significant for different minority groups and hold primary elections there. This will allow for much greater participation from groups that are not usually emphasized during the voting season due to less outreach into minority communities.
Marquette University can also learn from the Iowa Democratic Party to make its doors more open and welcome to those of other faiths. There is a wide variety of religions and sects practiced on this campus, and their concerns must be attended to.
Marquette is a Jesuit institution, so it is practical that its priorities would be to uphold Catholic Jesuit values. At the same time, as an institution that celebrates "being the difference" and tries to market the university as a place for all groups, it must truly embody that idea through its actions.
The university can put greater effort in creating interfaith spaces for Muslims across the entire campus. I, as a third-year student at Marquette, am unaware of any action taken beyond providing the Public Interfaith Mediation Space and Islamic Prayer Room in the Alumni Memorial Union for minority religions on campus.   
Perhaps the university does have these amenities available for other religions. If this is true, it does a very poor job at promoting those spaces to the students on campus, especially incoming students. For example, my Marquette tour guide never took me to any interfaith spaces on campus or even explained that they exist here. For some students, these spaces are really important in their daily lives to fulfill their religious duties.
Just as the Democratic Party of Iowa understood the significance of interfaith spaces, the university must understand that significance and do its part to make it easier for these students who choose to come to Marquette.
This story was written by Aminah Beg. She can be reached at [email protected]
Leave a Comment
About the Contributor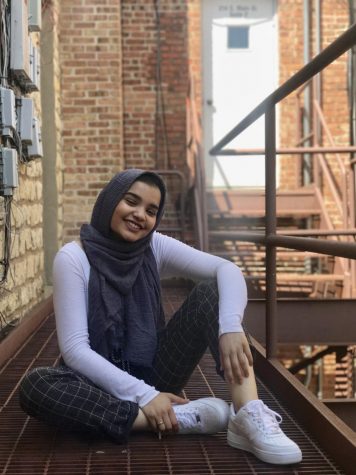 Aminah Beg
Aminah Beg is the assistant opinions editor for the Marquette Wire. She is a sophomore from Naperville, Illinois who is majoring in Public Relations and...