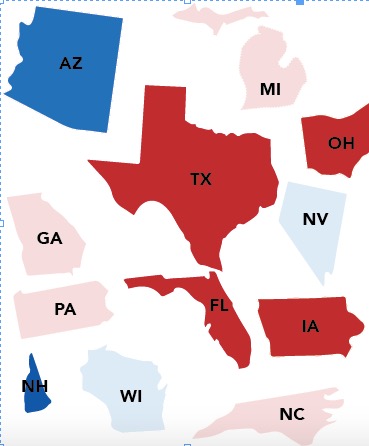 Former Vice President Joe Biden won the the State of Wisconsin as of 1:30 p.m. Nov. 4.
As of 2:30 a.m. Nov. 4, President Donald Trump had presumptively won crucial swing states Ohio, Iowa, Florida and Texas. Biden won Arizona and New Hampshire, according to the Associated Press.
Swing states include Wisconsin, Florida, Ohio, Arizona, Iowa, Michigan and North Carolina. Florida is the state with the most electoral votes of the swing states, with 29, followed by Pennsylvania, with 20.
In 2000, the presidential election was determined by Florida. According to The Washington Post, Florida is almost always competitive. As of Oct. 31, according to The Guardian, Democratic candidate Joe Biden was leading President Donald Trump by 2.2 points in the polls.
According to 270towin, in 2016, Florida's vote was split between 47.8% for former Democratic Candidate Hillary Clinton and 49.0% for Trump. Florida also almost always votes for the candidate who ends up winning the election. The last time Florida voted against the winner was in 1992.
Jazmine Sanchez, a junior in the College of Health Sciences, is from Florida. Although she goes to Marquette, in Wisconsin, she chose to vote back in her home state in Florida.
"I voted for this election in Florida because I know it was very, very tight," Sanchez said, referring to how competitive Florida is in elections.
Sanchez said she feels like her vote may have more impact than those of voters who are not in swing states.
"I've seen a lot of times (Florida) going blue, red, blue, red," Sanchez said. She said it has gone back and forth throughout her lifetime.
Pennsylvania saw a similar trend, with Biden leading by 5.0 points to Trump as of Oct. 31. However, according to The Guardian, Pennsylvania was perhaps the most important battleground swing state going into the election. As there was an extremely tight race, models projected that whichever way Pennsylvania tipped was likely to take the entire election with it.
Abby Doohan, a senior in the College of Health Sciences, is from Pennsylvania. She said it doesn't feel very different living in a swing state than in the rest of the country.
Her roommate, who is from Illinois, receives just as many calls and as much mail from campaigns, she said.
Doohan chose to vote in Pennsylvania over Wisconsin, but she said she doesn't feel like her vote had much more impact. She said although Pennsylvania is a swing state, her county in Pennsylvania is not a swing county.
"It's not like my vote was going to matter in my county," Doohan said.
She said that swing states are often determined to decide the election, but the way many work is that city centers go blue and rural areas go red. She said it's more about the balance between the two, and which will pull through.
Although she said she thinks her vote didn't help decide the election, she said she has more say than perhaps a state that always goes one way. For example, she said she had more say than a Republican who lives in California, or a Democrat who lives in Alabama.
This story was written by Annie Mattea. She can be reached at [email protected].