New Music Monday: Dreamhouse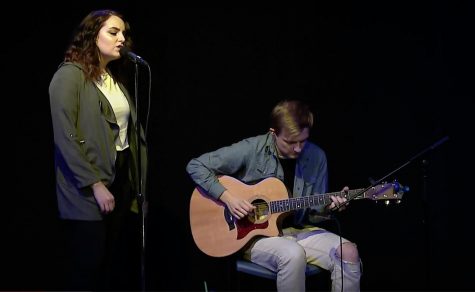 Female-fronted, alternative rock band, Dreamhouse, was the most recent music act to perform on New Music Monday. The current line up consists of lead vocalist Brianna Jackson, bassist Jared Block, drummer Michael Crisp and guitarist Derek Moffat. The band performed two songs: "The Current" and their new single "Clarity".
Both of these songs are meant to be accompanied by bass and drums; in other words, they're not supposed to be acoustic, however, "The Current" and "Clarity" was performed so eloquently that it's nearly impossible to discern.
After the performance, Dreamhouse was courted to the radio studio and was interviewed by Marquette Radio's Music Department. The interview lasted 30 minutes and consisted of their performance at Summerfest, their new single, recently signing to InVogue Records, the popularity of their cover of "Stay" and so much more.
Dreamhouse will perform at Meltdown Creative Work in Bloomington, Illinois on November 11th at 5pm CST.
Leave a Comment