The Democratic party will take control of the United States House of Representatives after Tuesday's midterm elections. The Republican party maintains its majority in the Senate, picking up four seats from Democrats, now holding a majority of 53-47.
Prior to the election, Republicans held a 235-seat majority in the House, needing 218 to keep their majority. Democrats more than met the 23-seat gain threshold necessary to take the majority, and now hold 229 seats.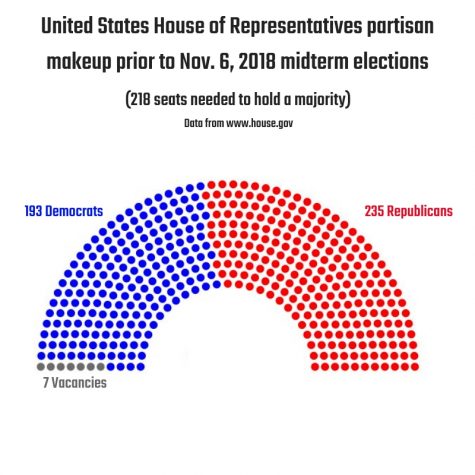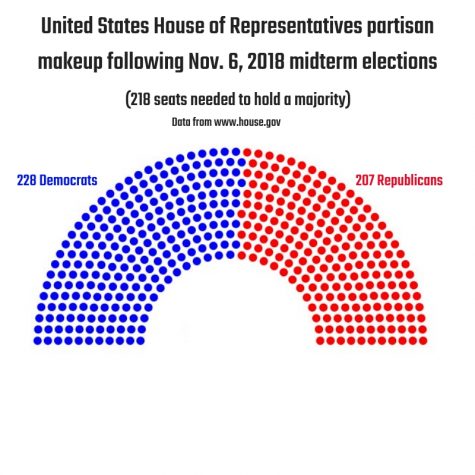 "… The biggest thing that they will be able to do is begin new investigations of the Trump Administration. This is because the House has the power to issue subpoenas, which could include (for example) obtaining Trump's tax returns," Paul Nolette, an associate political science professor who studies United States politics, said in an email.
Nolette said that in terms of actual policy, it will be difficult for Democrats to enact their priorities since Republicans still hold the majority in the Senate and President Donald Trump has veto power.
The makeup of the senate stayed at a close margin, with Republicans picking off four incumbent Democrats: Claire McCaskill (MO), Joe Donnelley (IN), Jon Tester (MT) and Heidi Heitkamp (ND).
Democratic incumbent Senators in other close races managed to hang on by narrow numbers, including Joe Manchin (WV).
Republican Senator Dean Heller (NV) lost in a close race to Democratic challenger Jacky Rosen.
Democrats have not held a majority in the Senate since 2014 and will have to wait until 2020 to try to gain more seats.
Note: The current results are unofficial. Each county must conduct a canvas and results must be certified by the state before being finalized.