Columbus natives Twenty One Pilots (also stylized as twenty øne piløts) has been one of my favorite groups for the past few years. I have seen them once before during the 2016 Emotional Roadshow World Tour, so when I discovered in July that they were coming to Milwaukee, I was ecstatic and bought my ticket the second they went on sale. Thankfully, I secured it before they sold out. From that point on, it was simply a waiting game to see them and inevitably wait in line for the pit an experience I've had a love-hate relationship with- as I've had to sit through horrible weather many times just to be front row.
Waiting in line is always an experience for shows, you make friends and have to endure an agonizing wait to secure a good spot. I arrived at midnight Friday to see a group of over 100 fans already waiting, some of whom have been waiting since Wednesday for a Saturday night show just to get front row.  I expected to see a good amount of people by the time I arrived, but to hear that some were there before the Foo Fighters concert on Wednesday was simply ridiculous. The wait was quite the mission (the worst I've endured so far) as it became the cold, windy and even snowed for a while, which wasn't on the radar.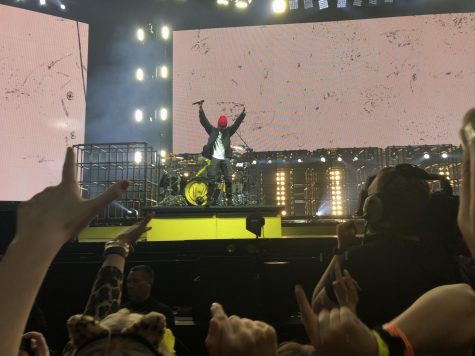 When we were finally allowed into the venue at 6 p.m., the crowd was ecstatic as the venue used the numbering system fans came up with to let us in single file. At 7 sharp the first opener Max Frost began, and to my delight, was an act I enjoyed. Frost's short set got crowd got very engaged getting them to sing along and dance. Awolnation was the next act, playing shortly after. At the time I only knew two songs, "Run" and "Sail," but I'm definitely a fan after the performance, especially after the song "Miracle Man,"  which I'd say has to be my favorite song by them now.
After a 19-hour wait, the main act came out and as I expected, they didn't disappoint. The spectacle was simply amazing. It's hard to say, but you can really argue all their songs except "Heathens" are fan favorites. This is not to say that song is bad, they just have better work throughout their almost decade long discography. The one-two punch of "Jumpsuit" and "Levitate" on top a flaming car was a fantastic starting point to get the crowd excited, but with a fanbase as dedicated as this, they could've performed any song to get them jumping. As the concert continued, it was nonstop with the great songs and fan interaction. The first half of this consisted of Tyler Joseph making the crowd scream "yeah yeah yeah" during "We Don't Believe What's on TV" and making us get low for before the drop on "Lane Boy" to jump and go crazy when it finally did.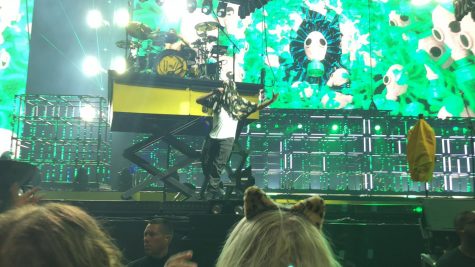 The B-stage was great as well, although I couldn't get a good view of it due to the distance and people in front of me. As with the last tour, this is where the more emotional songs came. "Taxi Cab", off their debut album, before drummer Josh Dun was even a member,  was the first song played here. After that they played "Neon Gravestones," a song celebrating the life of Tyler's grandfather, and "Bandito". The last song was the more cheerful "Pet Cheetah" which concluded when the duo returned to the main stage. 
The final segment of the show included "Holding on to You" with Tyler, as always, having the crowd hold him up during the first verse, and later Josh doing a backflip during the final segment.  After that, Tyler got the crowd to sing the final chorus of their latest single "My Blood" and quickly followed it by heading into "Morph", which was my highlight of the night. During the finale of this song, they brought out a drum set for fans to hold up, I was among the ones holding it during his drum solo. "Car Radio" quickly followed and the crowd was louder than the speakers.
The final two songs were as bittersweet as ever since you could tell the show was coming to an end. Beginning with "Leave the City," they started their emotional finale while the crowd brought a sea of yellow lights all around. Finally "Trees" came on, marking the end with a slow start which transformed into a fantastic frenzy of jumping. Then came the platforms and drums on which both Tyler and Josh play on top of the crowd, and  finally bowing to a roar from the crowd.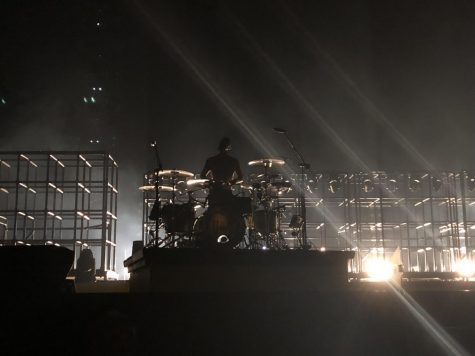 As I've come to expect, they can't play all my favorite songs, which is a shame because "Ode to Sleep" "Migraine" and "Guns for Hands" would've made this much better from their already spectacular work. I plan on seeing them again on the summer leg of the tour in Miami and you should make sure to see them during the rest of the Bandito Tour.
Story continues below advertisement